On January 16, 2018, the first Joint Coordinating Committee (JCC) and the kickoff workshop were held in Ulaanbaatar city.
[The 1st Joint Coordinating Committee (JCC)]
The objective of the JCC was to invite various institutions relevant to the preparation of greenhouse gas inventories (GHG inventories) in Mongolia and inform them of the launch of the project, and to promote key stakeholders' understanding of GHG inventories and the Project activities that aim to establish GHG inventory improvement cycle in Mongolia. The GHG inventory covers GHG emission sources and sinks from a wide range of sectors, such as energy, agriculture, forest, and waste. Therefore, in order to facilitate GHG inventory improvement activities through the Project, it is necessary that institutions responsible for various statistical data in these sectors understand the objectives and importance of the Project and cooperate in the provision of the necessary data.
At the JCC, the Mongolian counterpart Ministry of Environment and Tourism (MET) presented the overview of Mongolia's climate change policies, followed by the presentation by the member from the other counterpart ECF, on preparation status of Mongolia's GHG inventories. JICA short term experts also presented on international rules for GHG inventory preparation, and on the overview, objective and activities of the Project. After the presentations, JCC members discussed the Project Work Plan and it was approved at the JCC.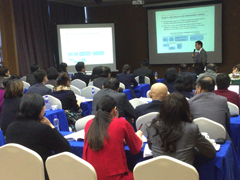 Joint Coordinating Committee (JCC)
[Kickoff workshop]
The kickoff workshop, which was jointly held by the MET and JICA, aimed to provide relevant Mongolian institutions with the details of the Project activities and technical information regarding GHG inventories, and also to share the experience from Japanese GHG inventory preparation arrangements and process.
At the workshop, JICA short term experts presented on the details of Project activities for the Output 1 (general improvement cycle), Output 2 (improvements in the energy sector) and Output 3 (improvements in the LULUCF sector), and also introduced GHG inventory preparation arrangements and improvement cycle in Japan. During the Q&A session, many questions were raised by the participants, including the questions about Japanese institutional arrangements with the data providers for GHG inventory preparation, and questions about methodologies that will be used in the activities for Output 2 and Output3 to improve Mongolia's GHG inventories.
More than 50 stakeholders, including relevant ministries such as National Statistical Office of Mongolia and Energy Regulatory Commission, Authority of Ulaanbaatar city, research institutions such as Mongolian University of Lifesciences, and donor institutions that are implementing relevant projects such as GIZ (German Corporation for International Cooperation) participated in the workshop, and active discussions were held.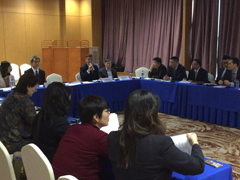 Presentation by JICA short term experts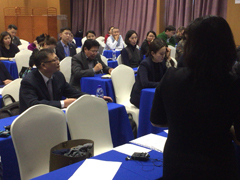 Q&A session