On April 19, 2019, the second LULUCF working group meeting under "The JICA Project for capacity development to establish a national GHG inventory cycle of continuous improvement" was held in Ulaanbaatar city.
One of the main outputs of the JICA Project is to strengthen capacity to organize issues in the LULUCF sector and systematically improve the inventory. Specifically, an improvement of GHG estimation methodologies in grassland is the priority in Mongolia , because GHG emissions/removals from grassland are not estimated in Mongolia's BUR in spite of large grassland areas in Mongolia.
The first LULUCF Working Group meeting was held in April 2018 to discuss the existing grassland and soil data that Mongolian institutions have collected and discuss data needed for estimating emissions/removals for soil and biomass.
The second meeting, which was jointly held by JICA and the Project counterpart agency Environment and Climate Fund, aimed to present key domestic experts with the results of the research on the existing soil and biomass data and discuss on necessary data for current estimation methodologies options and field survey manual including site selection.
At the meeting, JICA experts presented an overview of data analysis on the existing data, suggestion of methodology to estimate GHG emissions/removals in Mongolia, and introduce the "Improvement Guidance- field survey" draft. During the discussion session, many questions were raised by the participants on details of methodology to estimate GHG emissions/removals from grassland and the improvement guidance. Domestic experts also provided comments and suggestions to enhance the improvement guidance. For example, suggestions for candidate sites for the field survey and method that should be adapted for this JICA project were provided.
More than 25 stakeholders, including Ministry of Environment and Tourism, research institutions such as Institute of Geography and GeoEcology, Mongolian University of Lifesciences, National University of Mongolia, Research Institute of Meteorology Hydrology and Environment, and Wildlife Conservation Society participated in the meeting, and active discussions were held.
As a result of discussion at the meeting, "the Improvement Guidance - the field survey" was approved and the strategy and rough schedule of field surveys to collect necessary data such as soil organic carbon and above and below ground biomass to improve the inventory were decided. The field surveys will be carried out in 2019 and 2020 based on "the Improvement Guidance – the field survey". Grassland GHG estimation methodologies will be improved based on the results of literature survey and surveys conducted in 2019 and 2020.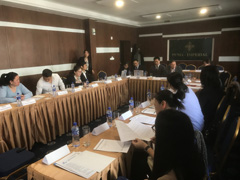 Discussion session