Japan International Cooperation Agency (JICA) commemorate the 40th anniversary of the dispatching of Japan Overseas Cooperation Volunteers (JOCV) to the Solomon Islands this year. As part of celebration, some stories of past JOCVs will be shared in this paper. The second author is Ms. Sakiko Takeuchi who has worked as a nurse in Isabel Province from 1991 to 1993.
* The public event for celebrating 40th anniversary of JOCV dispatchment will be conducted on 20th July at the National Art Gallery. The detailed information will be announced.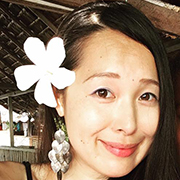 Author Profile No.3
Chihiro Tsuchiya
Nurse / public health nurse. Chihiro has worked as a JOCV at Kukum clinic from 2012 to 2014. Currently studies at Kyoto University as a PhD student and work as an assistant professor at Jichi Medical University in Japan while conducting a research about the factor of NCDs (Non-Communicable Diseases) in Solomon Islands.
Title
"As a NCD nurse"
Body
I worked at Kukum clinic from 2012 to 2014 as a NCD nurse. During my time at the clinic I witnessed an increasing trend in NCDs in Solomon Islands. To help my patients apply healthy lifestyle I started to hold weekly cooking classes. I also worked in Red Cross restaurant in China town and learned how to cook local vegetables. I finally published a recipe book titled "Kaikai blo Iumi" with 70 recipes using locally affordable and available ingredients and utensils. It was really challenging to work in Solomon but I really enjoyed working.
The greatest memories during my time in Solomon was meeting many people such as great colleagues, kind patients, and numerous friends. They always helped me, motivated me, gave me smile, and encouraged me. It was unforgettable precious time.
After coming back to Japan, I enrolled graduated school to study more about the factors of NCDs in Solomon Islands. My experiences in Solomon gave me chances to find next career. I hope I could help people to reduce the number of NCDs through my research in the future. I also looking forward to seeing my friends and cook together again. Lukim iu!