Japan International Cooperation Agency (JICA) and Ministry of Infrastructure Development (MID) has commenced the Greater Honiara Transport Master Plan Study (GHTMPS) in May 2019. The JICA Study Team for GHTMPS is composed of 14 experts from Japan who are dispatched to Honiara intermittently throughout the end of the project in August 2020.
The target area of GHTMPS is Greater Honiara, which includes Honiara City and some parts of Guadalcanal Province bounded by Poha Bridge on the west and Tenaru Bridge on the east. The project area is the same target area as in the Greater Honiara Urban Development Strategy and Action Plan (GHUDSAP) completed by the Asian Development Bank (ADB) in 2018.
The main outputs of GHTMPS are the transport master plan for 2036 and a list of priority transport projects. Project activities include enhancing the upgraded Kukum Highway, formulating plans for public transport, parking management and traffic safety, improving disaster resilience of transport, developing the road maintenance system, carrying out technical transfer, and conducting public consultations. A pilot project will also be implemented within the project period.
To kick off the project, the first Joint Coordination Committee (JCC) meeting was conducted on June 11. The JCC consists of MID, JICA Solomon Islands and the JICA Study Team, as well as relevant agencies such as Office of the Prime Minister and Cabinet, Ministry of Lands, Housing and Surveys (MLHS), Ministry of Environment, Climate Change, and Disaster Management and Meteorology (MECDM), Guadalcanal Provincial Government, Honiara City Council (HCC) and the Traffic Police.
So far, the JICA Study Team has met with some relevant agencies for consultation and data collection, as well as conducted several surveys such as travel time measurement, traffic count and interviews in coordination with a local consultant and Youth at Work. Other surveys, such as the Household Origin-Destination (O-D) Interview Survey and bus terminal surveys, will be carried out after the school holidays.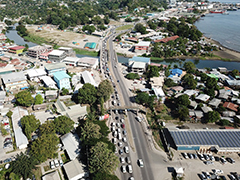 Traffic congestion on Kukum Highway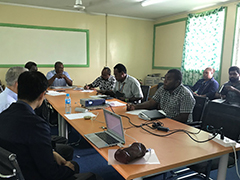 1st JCC meeting for GHTMPS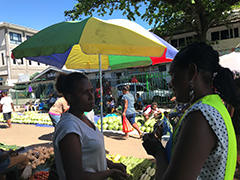 Interview with a market vendor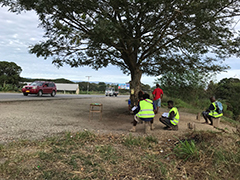 Traffic volume count survey