Technology Testing to Mitigate Human-Elephant Conflict and Promote Coexistence in West Bengal
Summary
Details of Implementation
To mitigate human-elephant conflict in West Bengal, JICA is working with the West Bengal Forest Department (WBFD) to launch a pilot project (PoC) to test technologies and inform WBFD's data strategy. We selected a digital partner with a proven track record in conservation technology in India and similar regions to provide and implement technology-based solutions.
Digital Partner

Timeline
Mid-August 2023 to January 2024
Status
Index
Project Context
In the 2021-2022 period, the tragic repercussions of the -elephant conflict (HEC) in West Bengal were starkly evident, with 77 lives lost, 190 individuals injured, and crop damage surpassing 40 million hectares in aggregate. These distressing statistics emphasize the critical need for immediate action and innovative solutions to mitigate the devastating impact of HEC. In collaboration with the West Bengal Forest Department (WBFD), JICA has worked to launch a Proof-of-concept (PoC) to test technologies and inform WBFD's data strategy.

JICA's loan project to the forestry and biodiversity sector in West Bengal started in 2012 as the "West Bengal Forest and Biodiversity Conservation Project (WBFBCP)". WBFBCP was closed in 2022, and a new project, "The Project for Forest and Biodiversity Conservation for Climate Change Response in West Bengal (WB-FBCCCR)", has started since March 2023 with eight years of the project implementation period. During the first project, WBFD implemented some countermeasures against HEC, such as electric fencing, studies of elephant ecology, and watch tower construction. In addition to that, during the second project, WBFD plans to procure and introduce tracking of elephant routes through radio collaring, installation of EWS (Early Warning System), and a pilot project for the use of UAVs as project activities. Accordingly, PoC is expected not only to test technologies during PoC itself but also to find out effective solutions for deployment in project activities of WB-FBCCCR.

We recruited solutions publicly and reached out to technology companies to join the bidding process. After careful consideration, we have selected RESOLVE as a Digital partner for this PoC to implement their advanced technology solution. This collaboration will not only enhance the efficiency of our HEC mitigation efforts but also inform future data management strategies, ensuring sustainable wildlife conservation for generations to come.
Project members
Digital Partner

RESOLVE will introduce TrailGuard AI—an AI-enabled, camera-based real time alert system—to West Bengal to mitigate human-elephant conflict and promote wildlife conservation.

Established in 1977, RESOLVE is a Washington, DC-based non-profit organization that forges sustainable solutions to critical environmental, social, and health challenges by creating innovative partnerships where they are least likely and most needed. RESOLVE brings a unique combination of expertise to our work: mediation and process design; solutions-focused strategies and programs; and a capacity to create and launch self- sustaining social enterprises.

Nightjar LLC (Nightjar) is a limited liability social benefit company organized and funded to achieve the social and environmental objectives of developing durable long-lasting high technology devices—including the trademarked TrailGuard AI. Nightjar emerged from the Biodiversity and Wildlife Solutions program at RESOLVE Inc.

RESOLVE Official website
Dr. Eric Dinerstein
Senior Advisor, Biodiversity & Climate RESOLVE
CEO, Nightjar LLC

"India, with its rich biodiversity, holds a pivotal role in global conservation efforts. Our PoC project deploying the TrailGuard AI system, in collaboration with the West Bengal Forest Department, is a testament to our commitment to safeguarding this vital hub of biodiversity and resolving human-elephant conflicts and promoting long-term coexistence"
- Dr. Eric Dinerstein"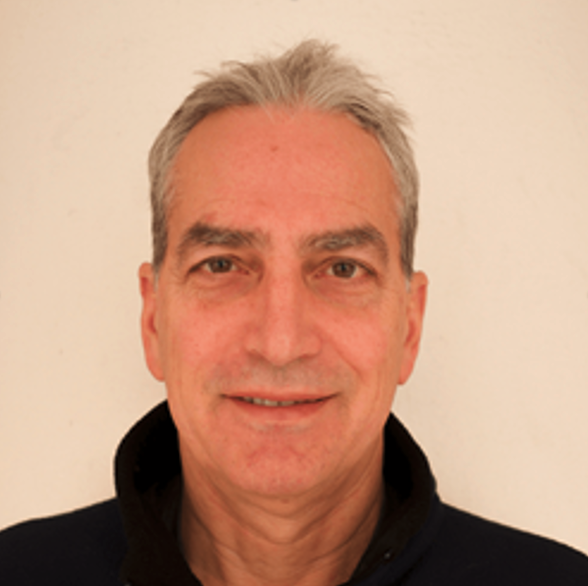 Project Owner
Amitabh Vibhakar Mishra
Chief Director for the Project for Forest and Biodiversity Conservation for Climate Change Response in West Bengal (as of 06/2023)

PoC project with JICA on "Human Elephant Conflict" mitigation is an opportunity to test the "Control Strategies" in an area with recurrence of HEC and "Zero-in" on the most effective method or a "series of methods" which may be replicated throughout the elephant infested territory of the state.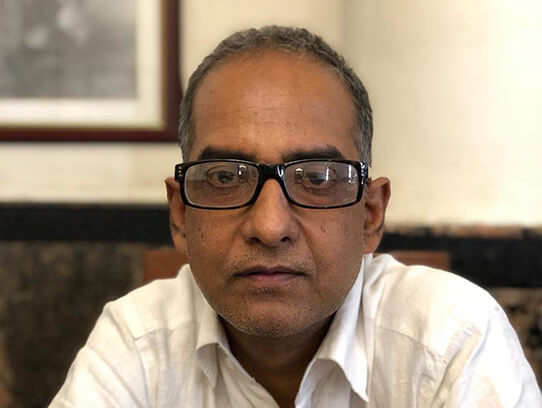 Sponsor
Hirari Sasaki
Japan International Cooperation Agency/Country Officer, South Asia Department, JICA HQ (as of 06/2023)

JICA's support to the forestry and biodiversity sector in West Bengal started in 2012 by providing a concessional loan to projects of the state's Forest Department.

Since then, JICA has promoted the use of technology to enhance the effectiveness and efficiency of the projects and is also pursuing to create societal impact through digital technology and data.

Human-Elephant Conflict is one of the serious challenges in West Bengal that requires immediate action utilizing cutting-edge technologies and innovative solutions. To address this challenge through our projects, we are looking forward to collaborating with digital partners.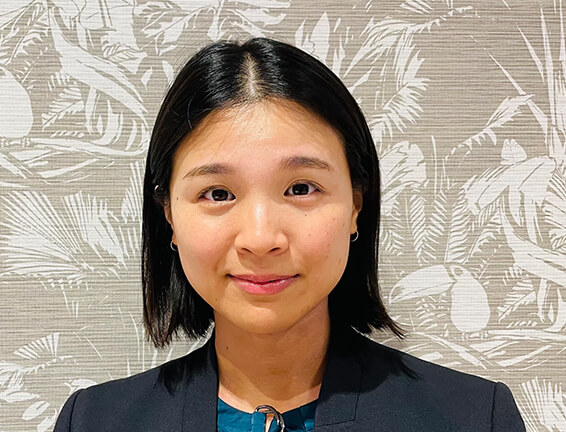 Partner Relationship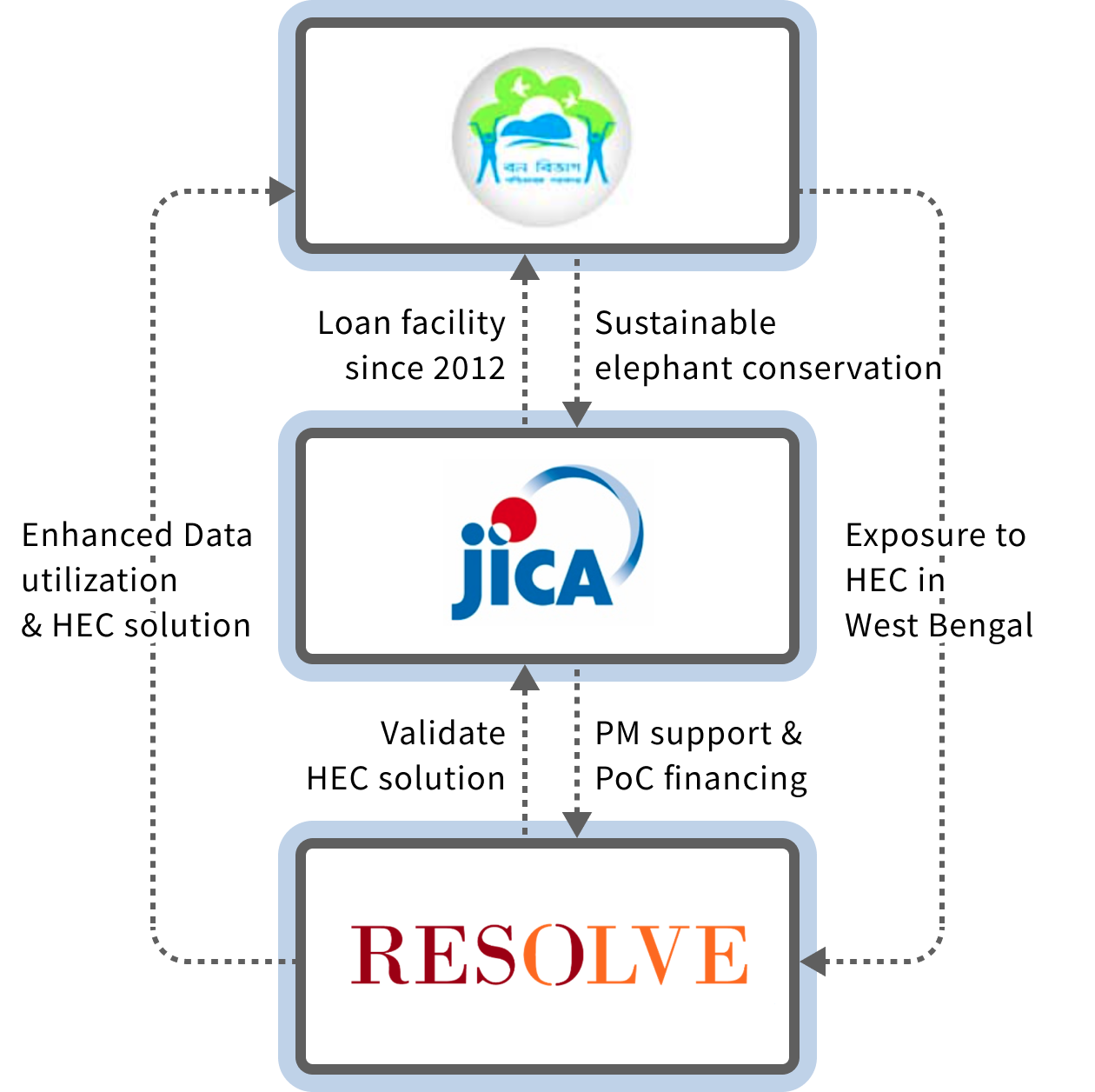 PoC Implementation Requirements
Eligibility (Expertise)
Has experience in offering solutions to mitigate human-wildlife conflict in India or other similar regions
Proposed solution focuses on conflict prevention and/or conflict response
Proposed solution has been tested at other sites
Budget ceiling
USD 70,000 including all taxes and expenses, however negotiable.
Primary scope of work
PoC Design: Needs assessment, developing WBFD's data utilization plan, testing/validating the solution, finalizing roll-out strategy, and monitoring/evaluation plan localization
PoC Implementation: Solution roll-out, adaptation, and localization
Monitoring and Evaluation: Monitoring and evaluation, ongoing support and maintenance, reporting
RFP
RFP also includes other information, including the project background, animal habitat, and eligibility. Please visit RFP for details.

RFP
Required Technologies
Early Warning & Rapid Response SystemTo prevent and reduce direct pressure that leads to conflict (optional and not required)
Monitoring & Reporting ToolsFor local communities to monitor animal behaviors/mitigation measures and submit reports to be integrated into the national/state-level database (optional and not required)
Info Session
【Past Event】We plan to host an information session for bidders in the week of June 26th, 2023.
For those interested in co-creation with JICA DX
Other projects from JICA DXLab
PoC for Big Data Analysis on Customer Profiling and People Movement in Blok M TOD Area with MRT Jakarta
The Proof of Concept will require a digital partner to comprehensively collect and analyze extensive user data within the Blok M vicinity of the MRT Jakarta station. This includes outlining a data collection strategy, presenting outcomes of the gathered data, providing insightful data analysis, summarizing the applicable regulatory framework, and providing recommendations for potential collaborations with other transport operators for data collection. In addition, the digital partner should propose MRTJ data-driven recommendations to increase ridership on MRTJ rail services and non-farebox revenue in the Blok M area.
Validation of Data Platform and Impact Measurement Methodology to Increase Women's Financial Access in India
Following the $50 million loan agreement in 2021 with Northern Arc to improve women's financial access through microfinance in India, JICA saw an opportunity to enhance data management practices and capture a wider range of detailed data by leveraging the expertise of technology players. This pilot initiativeselected a technology player in this area, to optimize reporting workflow, streamline data management, and allow detailed impact measurement with an ultimate goal to drive greater gender impact.