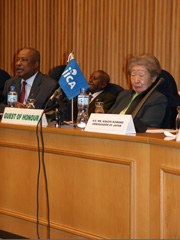 Mrs. Ogata addresses the African Union Wednesday in Addis Ababa.
Africa has shown promising economic and political developments in the last few years, but the continent remains fragile and much work remains to be done to improve the lives of the continent's 900 million people, JICA President Sadako Ogata said Wednesday, February 20.
Mrs. Ogata addressed the 53-nation African Union in the Ethiopian capital of Addis Ababa during a weeklong visit to Sudan and Ethiopia to help underline JICA's commitment to strengthening its assistance to the continent.
Mrs. Ogata highlighted recent progress, plans to accelerate African economic growth, the overriding threat of poverty, the urgent need to help countries recently emerging from war to rebuild themselves and the centrality of a concept she called 'human security' in development assistance.
Mrs. Ogata warmly praised African nations decision to overturn traditional political policy of 'non-interference' in the internal affairs of countries and instead embracing a policy of 'non-indifference' – in other words their preparedness to actively participate in trying to solve problems such as the recently political unrest in Kenya or the situation in Darfur.
"Africa has been making steady progress," Mrs. Ogata told delegates, with an average and extremely healthy 5% overall economic growth and a growing realization of the need for a balanced approach between infrastructure development and meeting individual human needs.
Link: African Union