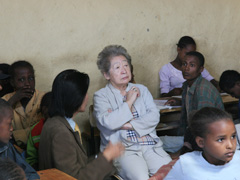 Listening intently in class.
The teff or wheat harvest has been collected and the parched land is bathed in a golden hue. Dust clouds swirl around the school house in advance of the forthcoming rains.
Elders in the small Ethiopian village of Fachiso say they cannot remember a single person from the community, sitting on the floor of Africa's Great Rift Valley, ever attending school but that all changed recently.
A four-room primary school opened last year on the outskirts of the village and 103 pupils aged from 7 to 14 enrolled to learn math, science and language. This year around 184 kids have been attending classes.
Thursday, February 21, Mrs. Sadako Ogata, president of the Japan International Cooperation Agency (JICA) visited the school. Her agency has been involved since 2003 with local education officials in a program called ManaBU, an expression in the local Oromo language meaning "community based school" and incorporating a Japanese word manabu which means 'to learn.'
Ethiopia is one of the world's oldest countries, one of its poorest, one of its most diverse with at least 84 indigenous languages and with a population which has virtually doubled in two decades to a current 75 million, an extremely young population.
ManaBU is essentially a four-year experiment aimed at bringing education to villages such as Fachiso which is both affordable and sustainable.
Pilot projects were established in 20 communities and chief adviser Takashi Nobe is one of two JICA experts who are currently involved in the program.
Many villages were initially vetted to become a ManaBU site, and one key factor was the motivation of local communities. A bitter lesson learned from many development projects is that without enthusiastic local participation and support, the programs often fail after donors leave.
Fachiso has never had a school. The nearest was at least 10 kilometers away which meant it was almost impossible in practical terms for children to receive any education. But mothers and fathers wanted to change things.
A key component of ManaBU is that local communities must be directly involved, not only encouraging their children to attend classes but also to become trained in administration and help in the construction and maintenance of the school itself.
A basic school design was drawn up, to be copied exactly at each location, at a cost of only 25 percent of a 'normal' concrete structure.
The communities learned as they went along. It took several months for the villagers at Fachiso to build their classrooms, but a local official from a neighboring district told Mrs. Ogata his group had more recently taken only a few weeks to build similar classrooms.
"This project gives us all a sense of community ownership," local education official Minda Tassew Bedanil told his visitor. "We are particularly proud because there are almost as many girls as there are boys." Traditionally, girls were always considered second class and rarely received the same chance to study as boys.
Another major achievement of the program has been the impact on the dropout rate. Government statistics indicate that the national dropout rate is around 22%, but Takashi Nobe, a kindergarden teacher who worked for JICA's volunteers in Sri Lanka and later as an expert in Cambodia, said in Fachiso it had fallen to less than 10%.
If the pilot is judged successful, similar ones could be established in other parts of Ethiopia. Improving education for millions of children is a key component to JICA's African operations and Mrs. Ogata's visit to Ethiopia and, earlier, to Sudan, was designed to underline her agency's increasing commitment to the continent.