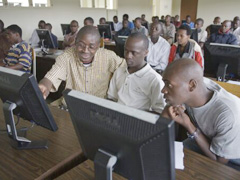 Students at the Tumba College of Technology
As Africa takes steps to accelerate economic expansion, it must also strengthen its social infrastructure to ensure 'equality and inclusiveness,' particularly for women, according to JICA President Sadako Ogata.
Following an economic summit conference on Africa held in Yokohama in late May, Mrs. Ogata left on a nearly two-week tour of the continent. She was a co-chair of a World Economic Forum on Africa in Cape Town, held meetings in Nairobi, visited JICA projects in Burundi and met top government officials there before going on to Rwanda, a country with which she has enjoyed particularly close ties.
The topics under review at the Yokohama meeting, known as the Fourth Tokyo International Conference on African Development (TICAD IV), were the implementation of measures to accelerate economic growth, the 'human security' of the continent's 900 million people and environmental and climate change challenges and they were central themes during Mrs. Ogata's four-nation visit.
It was highlighted by the presentation of an honorary doctor of law degree at Rwanda's National University in recognition not only for her role as president of JICA but also for her work during Rwanda's 1990s genocide when she was the High Commissioner for the UN refugee agency, UNHCR.
She paid particular tribute to Rwanda's 'remarkable recovery' from a conflict in which nearly 1 million people died and several million others fled their homes.
A top government priority since then has been education, particularly in the field of science and technology, and the JICA president attended the formal opening of the country's Tumba College of Technology which had been destroyed during the conflict.
Training IT specialists, scientists and engineers would be central to Rwanda's continued development, the JICA president said, but added that such development must be closely linked with social progress.
"While efforts should not be spared to advance economic growth backed by scientific and technical advancement, the benefits should be widely shared across society at large," she told an audience at the National University in the city of Butare.
The UN refugee agency had launched programs to educate, train and protect women and JICA was continuing that work, she said, by sending volunteers to work in other women's programs.
"Rwanda today claims (throughout Africa) the highest representation of women in parliament with more than 50 percent," she said, which was highly encouraging.
While Rwanda's future was bright, she cautioned that "the relevance of social measures to ensure equity and inclusiveness will be more important than ever."
Mrs. Ogata helped to develop the concept of 'human security' which embraces social development by encouraging the wider grassroots participation of local communities in development projects affecting their particular regions.