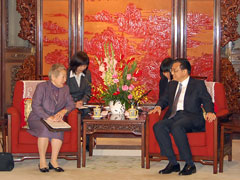 President Ogata had a talk with Chinese Vice Premier Li Keqiang on Thursday (December 3).
China and Japan should strengthen their relationship at all levels and work closely together to tackle some of the world's development challenges in the future.

Mrs. Sadako Ogata, President of the Japan International Cooperation Agency (JICA) outlined that approach in an address she was scheduled to deliver Friday (December 4) at Tsinghua University in Beijing as she continued a week-long visit to the country.

In her prepared remarks, Mrs. Ogata reviewed her own personal connections with China, her agency's major restructuring in 2008 when 'New' JICA was launched, 30 years of development activities in China and, finally, future relations between the two countries.

With the rapid spread of globalization, it was time to take a new look at the ties between the two countries while at the same time recognizing the past, she was to tell her university audience in one of the school's 'Global Vision' lectures.

China, she noted, had recently begun to extend its own development assistance programs to countries like Afghanistan and in Africa, areas where JICA is already active.

In addition to involvement in global issues such as climate change, the spread of infectious diseases, conflicts and refugees, Mrs. Ogata said JICA had also become deeply involved in the concept of 'human security' or directly helping the world's most vulnerable people recently. China, she said, was also becoming more involved in such issues.
Deeper Links
Looking at a five-year time span starting in 2011, the JICA president suggested that in addition to ties with the central government, it was now time for the two countries to strengthen links in other areas including local government, private companies, universities, non governmental organizations and the general public.

Her remarks reviewed JICA's involvement in China for the last 30 years noting that Japan had provided the equivalent of some 3.6 trillion yen in assistance and had hosted some 20,000 Chinese personnel on training courses in Japan.

Following normalization of diplomatic relations, China asked Japan to provide yen loans for rail, port, harbor and hydraulic plant construction. Grant aid was provided for hospital expansion and Japanese experts provided technical assistance for the country's rail network.

Reviewing her own links with China, she noted she had authored a book entitled "Defiance in Manchuria – the Making of Japanese Foreign Policy 1931-32" which highlighted Tokyo's 'irresponsible' behavior under the army and that her great-grandfather, who was Japanese prime minister at the time, had been murdered by the military. During a busy international career, she had also been invited to attend the return of Hong Kong from the United Kingdom to China.

Earlier in the week Mrs. Ogata visited JICA related projects in the northeast of the country, meeting with local officials and experts.

Arriving in Beijing, she met a series of high-level government officials before her scheduled speech at Tsinghua University, which will celebrate its 100th anniversary in 2011.

She returns to Japan Saturday