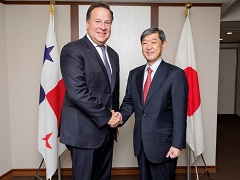 From left, Panamanian President Varela and JICA President Kitaoka
On April 4, JICA President Shinichi Kitaoka held a meeting in Tokyo with President Juan Carlos Varela of the Republic of Panama.
Having previously met in April 2016, this was the second time the two gentlemen have conversed.

President Valera opened the discussion by stating his appreciation for JICA's cooperation in the Republic of Panama, and after expressing his wish that the two countries deepen their cooperation, the two exchanged opinions on a variety of projects, including the Panama Metropolitan Area Urban Transportation Line-3 Development Project.

JICA will continue the cooperation with the Republic of Panama as it strives for sustainable economic growth and narrowing the wealth gap.