When persons with disabilities go out into society, they often encounter a variety of obstacles, even in Japan. Despite this reality, and despite having the highest unemployment rate and low per capita prefectural income in Japan, Okinawa has a consistently higher-than-average employment rate for persons with disabilities. This has been accomplished through the Okinawan spirit and efforts of persons with disabilities. Today, Emi Teruya, a native of Okinawa and JICA Expert with a visual impairment, and others are working to improve environments for persons with disabilities in Mongolia.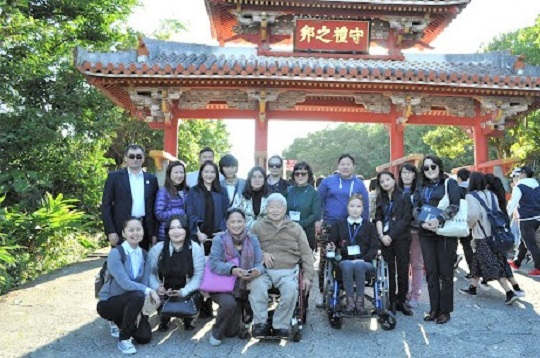 Leaders of persons with disabilities and government officials from Mongolia, visiting Okinawa for training. Fourth from left on the front row is Mr. Takamine, president of Empowerment Okinawa, the non-profit organization that receives trainees.
Progress in implementing systems, struggles in changing social awareness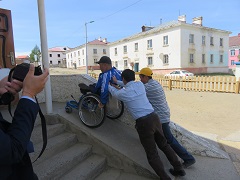 A wheelchair ramp in Ulaanbaatar, Mongolia. Many are too steep and unusable.
Ms. Teruya (*1) is involved with a project JICA started in 2016 that promotes the social participation of persons with disabilities in Ulaanbaatar, the capital of Mongolia.

Mongolia ratified the Convention on the Rights of Persons with Disabilities and is active in implementing and revising related laws. Nonetheless, difficulties still remain. Hisao Chiba, the project's chief advisor, says, "Even though there are ramps for wheelchairs, many are so steep that they cannot be used." In addition, before the project created the White Paper on Disability in Mongolia in March 2018, there was a lack of understanding and communication of conditions surrounding persons with disabilities.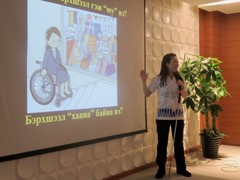 Disability Equality Training by Ms. Teruya
One of the largest issues is social awareness. One element of this problem is the absence of a specific vision, even among persons with disabilities, of what it means for persons with disabilities to play their part in society with reasonable accommodation or what the obstacles to social participation are.

Ms. Teruya addresses this problem with continual "Disability Equality Training," which helps people find obstacles in society and consider how they can be solved, and training the Mongolian persons with disabilities to become facilitators of the training.

Collaborating with a non-profit organization of persons with disabilities to make Okinawa the "center of disability-related training"
When Ms. Teruya was in high school, an Indonesian JICA trainee stayed at her home. This experience led her to want to "help people in other countries" and to eventually join JICA in 1996. While in charge of receiving trainees at JICA Okinawa Center, she learned of Mr. Yutaka Takamine's imminent return to Japan on completing his term as the Social Affairs Officer in Charge of Disability at the United Nations Economic and Social Commission for Asia and the Pacific(ESCAP). Mr. Takamine is another Okinawa native with a disability who has worked for many years to protect the rights of persons with disabilities. She contacted him with the idea of "launching a training program in the disabilities field in Okinawa."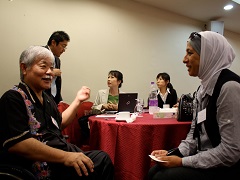 Mr. Takamine (left), then-staff member Ms. Teruya and others in Jordan
Mr. Takamine's non-profit Empowerment Okinawa and JICA began a Knowledge Co-Creation Program called "Economic Empowerment of Persons with Disabilities through Community Based Employment Support" in 2009. In 2011 Mr. Takamine, two other members of Empowerment Okinawa and Ms. Teruya (then-JICA staff member) began offering seminars and a traveling training program in Jordan. After that, the number of trainees increased and Okinawa became known as "the place to go for disabilities-related training."
Learning about Okinawa's efforts from leaders in Okinawa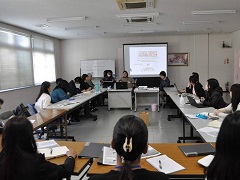 Trainees listen to Reiko Nagai, representative of Iruka, Center for Independent Living, as she explains the process of creating the "Ordinance for creating an inclusive society for persons with and without disabilities in Okinawa prefecture."
While facilitating this project, Ms. Teruya developed a desire to "share with Mongolia the process of Okinawa's advancement in the disabilities field."

One example is the process of creating the "Ordinance for creating an inclusive society for persons with and without disabilities in Okinawa prefecture," acclaimed as one of the country's most innovative ordinances. Persons with disabilities stepped up to initiate the process in 2008 with the aim of "enacting an ordinance that meets the standards of the Convention on the Rights of Persons with Disabilities." They collected over 30,000 signatures through efforts such as "Uchina—TRY," where members marched down the streets of Okinawa. Later, prefectural officials and persons with disabilities created the ordinance together. Mr. Takamine was one of the leaders.

The two-week training session held in Okinawa from late January of this year is a culmination of the hard work of Ms. Teruya, Mr. Takamine and others. On the first day, Mr. Takamine offered the following words to leaders of persons with disabilities and government officials from Mongolia.

"Back when I was injured, it was difficult just to go to school. We have come a long way in Japan and the world in the last 50 years. The important thing is for persons with disabilities to be active. If you take action when you return to your country, Mongolia will change quickly."

The trainees visited multiple organizations and businesses that support employment of persons with disabilities. "Sotetsu" is a large-scale workshop that sells bread, vegetables, key chains and other products to companies. The trainees were surprised to learn they make a profit with quality management and division of roles of the workers.

Experiencing accessibility in form and spirit
A trainee in a wheelchair using a public bus. During their time in Okinawa, trainees witnessed accessibility on public transportation and tourist facilities.
During the training, there was an incident where one of the trainee's wheelchairs did not fit into a taxi's trunk. The trainee thought she would be refused service, but the driver found a rope to tie it down and even gave it to the trainee saying, "You may need this rope again."

Ms. Teruya explained the significance of persons with disabilities getting involved in the project. "To promote the social participation of persons with disabilities, it is important for us to play our part as a member of society in addition to fighting for our rights. We provide rigorous training to help persons with disabilities in Mongolia develop their capabilities. And by using the word "we" instead of "you," I believe I can effectively communicate my ideas to them."

She said, "If improving environment and empowering persons with disabilities are promoted together, it will do much for the independence of persons with disabilities. I hope to play my part as a role model and continue enlightenment on disability issues."
(*1) Ms. Teruya joined JICA in 1996. She has been dispatched to Mongolia as a JICA Expert since 2016.