On Oct. 7, 2019, the World Health Organization (WHO) declared the elimination of Lymphatic Filariasis (LF) in Kiribati, a Pacific island country which has been combating LF for a long time. LF is a parasitic disease that is transmitted to humans by mosquitoes. It is a frightening disease that gets into the lymphatic vessels when infected and may cause the legs and genitalia to swell and become painful. Along with rabies and dengue fever, LF has been designated as one of the "20 Neglected Tropical Diseases (NTDs)" specified by WHO. Approximately 900 million people in 49 tropical and subtropical countries* need to receive mass drug administrations (MDA) for treatment and prevention.
With a target of eliminating LF, JICA has been providing support in 14 Pacific island countries, including Kiribati, through dispatching volunteers to provide patient care guidance, as well as promoting MDA and delivering blood test kits. Currently, through a public-private partnership, Eisai Co., Ltd. provides diethylcarbamazine (DEC), a drug for LF, free of charge for MDA, while JICA provides support for the implementation of MDA at community level.
People who are affected by LF often face difficulties in their work and financially suffer due to the prejudices and challenges in performing daily activities because of the swelling of the legs. Although MDA can reduce the risk of infection to the local population, the majority of patients are poor, and the intervention has been delayed until now.

MDA in Papua New Guinea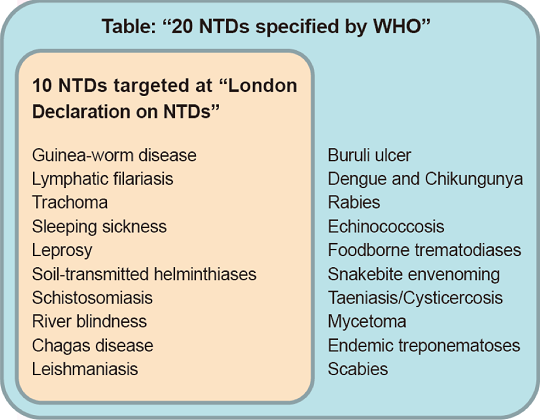 "Neglected Tropical Diseases" are a group of 20 diseases specified by WHO. The endemics of NTDs are caused by factors such as poor sanitation due to poverty, and leads to a decline in the labor force and productivity, making it impossible for local communities to escape poverty. In developing and emerging countries, NTDs are hampering economic growth and are one of the major challenges these countries need to overcome.
Long-term support for LF elimination in Pacific island countries for more than 30 years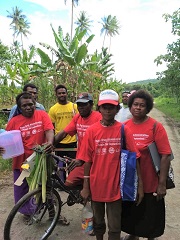 Members of the drug delivery team carrying drugs for MDA in the region (Papua New Guinea)
Since 1999, WHO has been implementing the "Pacific Programme for the Elimination of Lymphatic Filariasis (PacELF)" to eliminate the disease in the region. In addition to developing its supporting projects, JICA has continued to dispatch volunteers from the health and medical field to Pacific island countries since 1989. We have worked on preventive awareness-raising activities, promoted MDA and drug management, and reported data on MDA.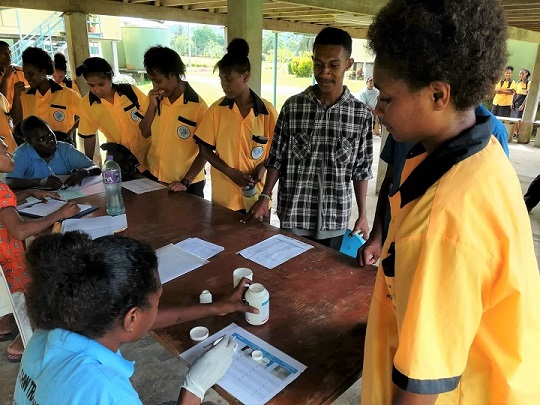 MDA in schools (Papua New Guinea)
In 2000, JICA began supplying drugs (DEC) and blood test kits (ICT/FTS) to 14 Pacific island countries, including Kiribati. By 2017, it provided 346.15 million drug tablets (DEC), 635,750 ICTs (by 2015), and 19,050 FTSs (by 2016).

This long-term assistance has helped eight of the 14 Pacific island countries (Cook Islands, Niue, Vanuatu, Marshall Islands, Tonga, Palau, Nauru, and Solomon Islands) achieve elimination of LF ahead of Kiribati.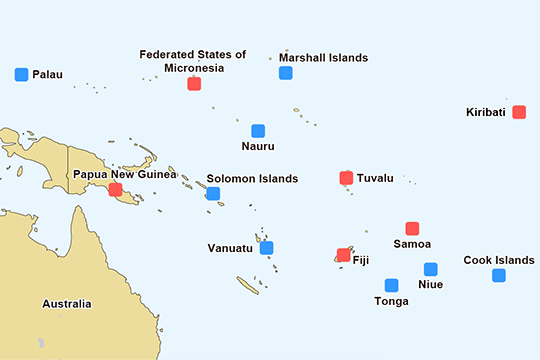 In red: Countries currently implementing/scheduled to implement "the Project for Elimination of LF in the Pacific Region"
In blue: Countries that have eliminated LF

Support from Japanese pharmaceutical company
Eisai, a Japanese pharmaceutical company, has been instrumental in supporting the elimination of LF.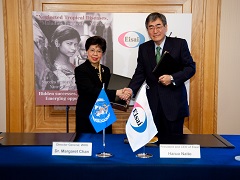 Ceremony for signing a statement of intent by NAITO Haruo, Eisai CEO, and Margaret Chan, Director-General of WHO (November 2010)
Eisai's efforts to eliminate the NTDs began in 2010 with the signing of a statement of intent with WHO for the provision of drugs for LF free of charge. Subsequently, the "London Declaration," announced in January 2012, led to the full-fledged implementation of this initiative.
In the "London Declaration," Eisai participated as a member of 13 major global pharmaceutical companies in a joint statement that WHO, the U.S. and U.K. governments, and the governments where the epidemic exists to form an international public-private partnership and work together to eliminate the 10 NTD diseases by 2020. Eisai is the first Japanese pharmaceutical company to collaborate with WHO to fight against NTDs and donate drugs free of charge. Since 2013, Eisai has been providing DEC to eligible countries.
Eisai's representative said, "High-quality DEC tablets, one of the drugs for treating LF, were in short supply worldwide that time. Eisai manufactures DEC tablets at our Vizag plant in India and provide them free of charge to WHO. To date, we have supplied 1.94 billion tablets (as of December 2019) to 28 endemic countries. Eisai considers the improvement of access to medicines and contribution to global health in developing and emerging countries as a long-term investment that will lead to economic development in these countries in the future."
Eisai representative also expressed, "In addition to providing DEC tablets free of charge, Eisai seeks to make further contributions to patients and their families worldwide and increase the benefits that health care provides them through partnerships with JICA, the governments of endemic countries, international organizations, and non-profit organizations."
Continuing the fight against LF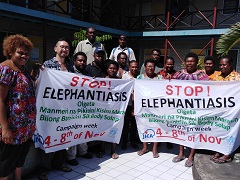 Health department personnel trained in MDA. Expert Sekihara is the second from the left (Papua New Guinea)
Since 2018, JICA has been promoting "the Project for Elimination of LF in the Pacific Region," and has dispatched experts to six countries (Kiribati, Samoa, Tuvalu, Fiji, Micronesia, and Papua New Guinea), all of which, except for Kiribati, have not yet eliminated LF.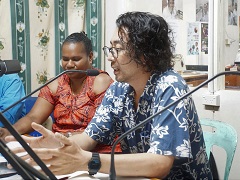 Expert Sekihara appeared on a radio program as part of a public relations activity for MDA (Papua New Guinea)
SEKIHARA Makoto, a JICA Expert, said, "In order to achieve a sufficiently high level of coverage in MDA, it is imperative to collaborate with all organizations and institutions in the target area. This would include the government, municipalities, hospitals, schools, churches, police, private companies, media, and more. We have built up a mutual trust by encouraging the motivation of each organization, working hard together in the field, and sharing the experiences of failure and success. All parties, in various countries, who are involved in the work of eliminating LF do so with enthusiasm and conviction, with the ultimate goal of the elimination of LF. It is why we, JICA Experts, do our utmost to meet these expectations, and it is a great challenge for myself."
JICA plays an important role in supporting LF elimination program in Pacific island countries and has been highly praised by WHO/PacELF Secretariat and recipient countries. These are important activities that contribute to improving the lives of people in the region, and JICA will continue to work together in the future.