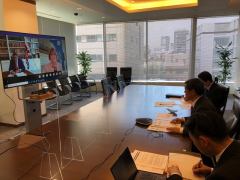 A scene from the online meeting
On Apr. 19, JICA President KITAOKA Shinichi had an online meeting with Alok Sharma, president of the 26th UN Climate Change Conference of the Parties (COP26), scheduled to be held in the United Kingdom in November.

At the outset of the meeting, President Sharma explained that it is necessary to share the message of carbon neutrality with the world for COP26 and to steadfastly implement commitments to the Paris Agreement. He also emphasized the importance of adaptation measures (measures to minimize the negative environmental consequences of climate change) in addition to mitigation measures (measures to control and reduce greenhouse gas emissions).

President Kitaoka first expressed his condolences for the passing away of His Royal Highness Prince Philip, Duke of Edinburgh in the U.K. He then conveyed his respect for the U.K.'s role as the G7 and COP26 Presidency and his expectations for the U.K.'s leadership in addressing global issues such as climate change. With regard to climate change measures, he also touched upon the launch of the "Japan-U.S. Climate Partnership" at the Japan-U.S. Summit held on April 16 and expressed JICA's commitment to cooperate with developing countries to the best of its ability through ample dialogue, in line with the policy of the Japanese government.

President Sharma emphasized the importance of each country's leadership and promotion of private investment to achieve the goal of carbon neutrality. He also emphasized the importance of financial cooperation and investment into energy transition and expressed his expectation for JICA and Japan's leadership.

JICA will continue to support the transition to a carbon neutral and climate-resilient society in developing nations in cooperation with other donors and partners.