Desert locusts are found throughout Africa, the Middle East, and southwest Asia, and devour a variety of crops. When an outbreak occurs, swarms of locusts ride the winds and travel a distance of more than 100 kilometers per day, resulting in damage to an estimated 60 countries, covering about 20% of the earth's land area.

Pakistan has been particularly hard hit with a large outbreak of desert locusts at the end of 2019, which affected an area of about 18 million hectares, the largest in the world and the worst ever (World Bank: June 2020 data). Moreover, since 2020, Pakistan's agricultural sector, which is the country's primary industry, has been severely damaged due to the combined impact of both this locust outbreak and COVID-19.

JICA is collaborating with the Food and Agriculture Organization of the United Nations (FAO) to build a system to support agriculture by improving the livelihoods of locust-affected small-scale farmers and the capabilities of government officials who carry out pest control activities. FAO has been working with relevant departments of Government of Pakistan to enhance the country's capacity to combat against the desert locusts in Pakistan.

Left: Seed and fertilizer distribution in the Pishin District. "I lost income from locust damage. I was worried that I would not be able to plant, but now that I can I am relieved," says a farmer
Right: In the Nasirabad District, a commissioned NGO conducting an interview survey on damaged crops, debts, and sources of income (Both photos taken in October 2020)
Emergency distribution of wheat seeds and fertilizer to severely affected areas
"Last fall, wheat seeds and fertilizer were provided by JICA to the farmers affected by desert locusts. They were of good quality and were delivered just in time for sowing. And now, farmers are grateful that the wheat is growing so nicely."

Faizullah Shah, deputy director of the Pishin District Agricultural Extension Office in southwestern province of Balochistan, who was in charge of the distribution of seeds and fertilizers, reports from the field.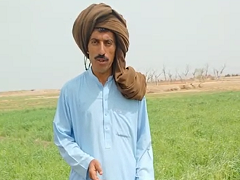 "We are grateful for the excellent quality seed and fertilizer that JICA provided. As you can see, the wheat is growing very nicely," says Hayat Khan, a farmer in Pishin Province, expressing his gratitude in his own wheat field
In Pakistan, prices of agricultural materials such as seeds and fertilizers have soared due to chronic drought and inflation. Following predictions of an attack by a swarm of desert locusts from East Africa and the Middle East, the government declared a national emergency in February last year.
As emergency assistance in response to this situation, JICA distributed seeds of wheat, a staple food for the people of Pakistan, and the required amount of fertilizer, to approximately 3,000 small-scale farmers in four provinces of Balochistan and three provinces of Punjab, where JICA is partnering in the field of agriculture. The initiative is in progress to protect the livelihoods of farmers suffering from locust damage.
Improving locust monitoring and control capacity in preparation for future attacks
In March this year, JICA, in partnership with FAO and the Government of Pakistan, began to further improve the cooperative structure for locust-affected small-scale farmers. Over the next year, the project aims to improve the food security and nutrition of small-scale farmers in the affected areas, as well as to strengthen the monitoring and control capacity of desert locusts. This includes the development of an information network for pest control and training using GPS devices.
Masoud Baloch, director general, directorate of Agriculture Extension, Government of Balochistan, expressed his hope for the future of the initiative, saying, "Direct support to these farmers is extremely important from a food security and socioeconomic perspective."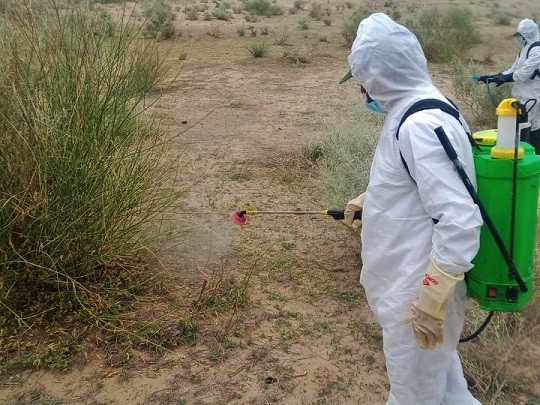 Desert locust control conducted with the support of equipment and materials from FAO (Sindh Province, September 2020)
Training of local staff continues remotely from Japan
In Pakistan, along with the damage caused by desert locusts, the spread of COVID-19 is also a serious problem. Farmers are now faced with an even more difficult situation due to the shortage of materials as a result of logistical delays, the surge in prices, the decrease in sales of harvested products through middlemen, the cancellation of training programs, and restrictions on meetings between experts and government officials.
For years, JICA has been providing assistance in the fields of agriculture and livestock, including the dispatch of experts and training for the improvement of agricultural technology. Even now, support in the fields of agriculture and livestock continues to be implemented in Balochistan, Sindh, and Khyber Pakhtunkhwa provinces. However, due to the impact of COVID-19, Japanese experts were forced to return to Japan last March, therefore some aspects of the assistance are currently being provided remotely.
Left: Field training to improve the capacity of field assistants (agricultural extension officers) in Balochistan Province
Right: A Japanese expert (left) providing guidance on the creation of training materials (photo courtesy of Appropriate Agriculture International Co., Ltd.)

JICA expert MATSUSHIMA Shuichi is involved in improving the capacity of agricultural extension agents in Pakistan. Referring to the COVID-19 pandemic cooperation and his vision for the future, he says, "Pakistan is suffering from unprecedented damage caused by both locusts and the COVID-19 pandemic, and more than ever, there is a need for resilient agriculture that can overcome such external damage. Our project maintains remote communication with the Government of Balochistan and is providing support against COVID-19 while gradually resuming field training and face-to-face classroom lectures to improve the capacity of field assistants. I believe that this is possible due to the relationship of mutual trust based on JICA's support over the years."