In Japan, June is Environment Month. To raise awareness about environmental issues, the United Nations designated June 5 as World Environment Day.

Climate change has been a major issue for all humanity. The global environment and climate change are closely related, and the most affected area is said to be "water resources" (note).

We asked MATSUMOTO Shigeyuki, group director of the Water Resources Group, Global Environment Department, about JICA's current cooperation strategy in developing countries on climate change countermeasures in the water resources sector. Dr. Matsumoto received the Japan Society of Civil Engineers Continuing International Contribution Award in 2019. At JICA, he is the one to talk to on water resources.

In Part One, we will take a close-up look at the nature of the problems caused by climate change. In Part Two, we will introduce JICA's cooperation in developing countries that contribute to both sustainable development and climate change countermeasures.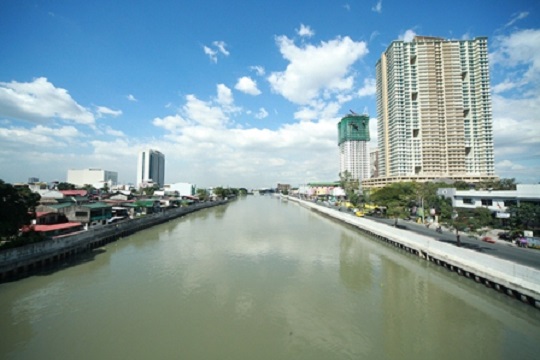 Pasig-Marikina River Channel Improvement Project is underway to prevent flooding in the center of Metro Manila, Philippines, in light of the intensification of typhoons due to climate change
Climate change has a major impact on water: flooding, drought, sea-level rise, and salinization
- What kind of water problems are caused by climate change?

Matsumoto: Climate change, or so-called global warming, has wide-ranging consequences. One of the most significant is the issue of water. Water circulates in the atmosphere along with heat, so climate change will affect the water cycle itself on earth. You will have heard of changes in rainfall patterns, melting of glaciers and ice sheets, and rising sea levels.

- Japan, also, in recent years has seen an increase in record-breaking torrential rains and large-scale typhoons approaching or making landfall.

Matsumoto: It is said that this is probably because the temperature of the sea on the south side of Japan is rising. On the other hand, for example, the eastern tip of Africa, known as the "Horn of Africa," is experiencing an increase in the frequency of droughts. This area includes Somalia and Ethiopia, and in 2011 it was hit by the worst drought in 60 years. Urban water supply and demand pressures are also becoming more and more severe every year, with record water shortages in Cape Town, South Africa, and Chennai (formerly Madras), India. Heavy rainfall and flooding are closely related to drought, and it has always been a problem, but recently the issue has become more extreme.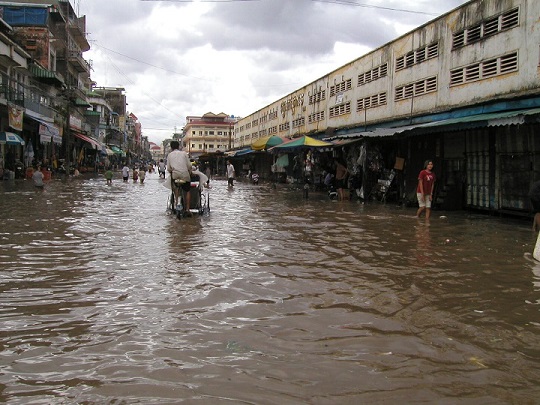 Flooded Phnom Penh, the capital of Cambodia
- Sea level rise is also a frequent topic of discussion.

Matsumoto: Sea level rise is a pressing issue for low elevation island countries, and the problem of salinization of groundwater and rivers is also becoming apparent in countries with low-lying coastal areas. For example, in Ho Chi Minh City, Vietnam, seawater is running upstream in the Saigon River, and the tap water taken from the river is becoming salty, which is a serious water quality problem. A rise in sea level is also said to be a contributing factor. In Jakarta, Indonesia, there are concerns that excessive pumping of groundwater is causing land subsidence, which, combined with rising sea levels, will lead to severe damage from storm surges.

- Since long ago, the shortage of water resources has been a concern.

Matsumoto: Although the earth is a planet of water, the majority of water is in the oceans. Fresh water in rivers and lakes for human use is said to account for only 0.01% of the total amount of water on the planet. This may seem like a tiny amount, but the water in rivers and lakes circulates in a pattern where rain falls, it runs off, heads out to the ocean, evaporates to form clouds, is carried up into the atmosphere, and then falls again as rain. According to Professor OKI Taikan's research group at the University of Tokyo, less than 10% of the annual discharge of fresh water into the oceans is consumed by humans in the world's rivers. In other words, in terms of total volume, the amount of fresh water is not being depleted. There is plenty of it.

- So this means there is no shortage of water?

Matsumoto: People talk about a water shortage because of the uneven distribution of water resources in terms of time and space. We have both rainy seasons and dry seasons. Some regions are arid or semi-arid and others are humid. In the case of developing countries, there are also economic reasons such as the lack of funds for the development and use of water resources. The rapid population growth and improvement in living standards have fueled the demand for water in different regions around the world. On the other hand, climate change due to global warming and other factors is accelerating the water problem. This is known as the "water crisis," and it has become an important issue common to all humanity that the countries of the world must cooperate on.