JICA's cooperation with Pacific Island Countries (PICs) to solve waste management problems dates back to 2000. At that time, in Samoa, the collection and final disposal of waste could not be appropriately managed, so JICA began to provide cooperation towards improving the situation. This effort then evolved into the Japanese Technical Cooperation Project for Promotion of Regional Initiative on Solid Waste Management (J-PRISM), which continues to this day.

MIMURA Satoru, who was involved in the project from its inception as a JICA staff member in Samoa in 2000, has been once again dispatched to Samoa in May this year as a JICA expert in the field of waste management. This is the latest report from Mr. Mimura in Samoa, who is providing ongoing support to the PICs.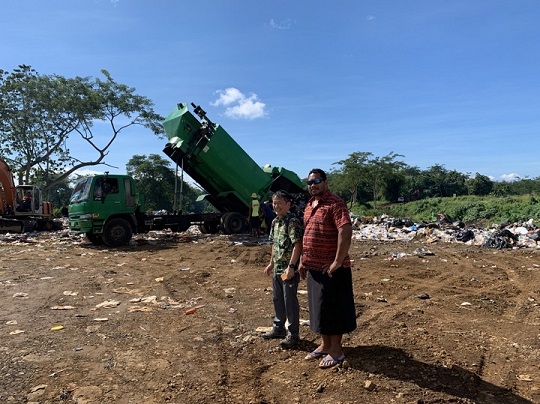 Mr. Mimura (left), after being re-posted to Samoa, and Fualaga Pemita, landfill officer of the Ministry of Natural Resources and Environment, visiting the Tafaigata Landfill Site. The green area seen in the back of the photo was formerly a landfill, but now plants are growing there thanks to the "Fukuoka Method," which promotes the decomposition of waste.
(The Fukuoka Method is a landfill system developed jointly by Fukuoka University and Fukuoka City. It is a low-cost and simple improvement technology that enables the installation of water drainage pipes and gas vent pipes using materials and methods available in developing countries. This Japanese technology can be employed as a countermeasure against environmental pollution and global warming by quickly eliminating water seepage and reducing methane gas emissions)
Nurturing human resources to support the future of the island
"Since waste is generated every day, it is important to ensure that proper disposal is continued in the future. That is why this project focused on fostering human resources with the aim of creating a 'sustainable waste management system run by the people who continue to live on the island.' Happily, we have received news that some of the local people we have been working with have become senior officials in the Samoan Ministry of Natural Resources and Environment, and others trained through the project have been appointed to key administrative positions in a number of countries in the Pacific region."

Mr. Mimura speaks about the progress of the project to date.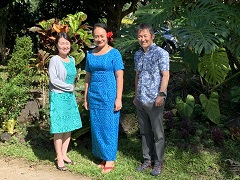 From left to right: Expert YOSHIDA Ayako of J-PRISM II, Deputy Director General Easter Chu Shing of SPREP, and Expert Mimura
Easter Chu Shing, deputy director general of the Secretariat of the Pacific Regional Environment Programme (SPREP), is a supporter of the idea. SPREP is an international organization based in Samoa, where the project is located. "The practical guidance provided on-site by JICA experts and the technical training conducted in Japan are two outstanding features of the country's technical cooperation. We have nurtured a great number of human resources who will play an important role in waste management not only in Samoa but also in the Pacific region," she recalls.
The project in Samoa is also notable for the diverse range of people involved, including local village communities, NGOs and private companies, in addition to the government and international organizations. This allows for a multifaceted approach to the issues, according to Mr. Mimura.

"One of the organizations that has really stepped up to the plate is the Samoa Recycling & Waste Management Association, which was founded in 2018. Even before it was established as an association, its members were active in recycling, but now they are even more energetic, conducting environmental education at schools, engaged in plastic bottle collection at supermarkets, and organizing community cleanups. I feel that such detailed activities are changing the awareness of people on the island, leading to a decrease in littering and cooperation in waste separation."


Activities of the Samoa Recycling & Waste Management Association. (Left) Training in recycling for people with hearing impairment. Through this work, they are trained to participate in society and receive compensation to support their independence. (Right) A cleanup campaign in the community
Marina Keil, president of the Samoa Recycling & Waste Management Association, says, "In the past, for islanders, recycling was something to do with 'sorting and collecting a small amount of valuable materials for money, such as aluminum.' Now, however, people's perceptions are changing and recycling is more about 'caring for the environment'."

The change in awareness is reflected in the daily lives of the islanders. In Samoa, the distribution of plastic bags, plastic straws, and plastic disposable lunch boxes were banned by law in 2018. At first, there was some resistance among the islanders, but now the practice of "avoiding the use of disposable plastic products where possible" has become the norm. "In the market, I often see people taking purchases home by hand without carrying bags," says Mr. Mimura with a smile.


(Left) A wrapped bus promoting "Plastic Ban" was operated by the Samoan Ministry of Natural Resources and Environment to raise awareness when it launched its waste strategy in Samoa
(Right) "Near the fish market, we saw a person holding a bonito by its tail to take home," said Mr. Mimura
Changes in waste problems due to modernization of the island and frequent natural disasters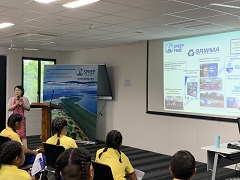 Environmental education is emphasized in Samoan schools
This project, which has been supporting resolutions to the waste problem in Oceania, has shifted its focus from "improvement of waste management and disposal methods" to "waste reduction efforts." It is now promoting initiatives focused on the 3Rs (reduce, reuse, recycle) and returns (export of recyclable waste) in nine PICs. This is due to the "modernization of people's lives," explains Mr. Mimura.
"The Samoan people were originally self-sufficient and their lifestyle was not one that produced waste. For example, the coconuts from the island are used for food, animal feed, and fuel, so no garbage is produced. However, due to the recent importation of food products, the quantity and nature of garbage has changed. Waste disposal has become impossible to keep up with, resulting in piles of garbage in the fields. This has started to have a serious impact on sanitation and the environment."

Imports of home appliances and automobiles are creating new types of waste. Natural disasters resulting from climate change are occurring more frequently. The amount of disaster waste, such as furniture and home appliances due to fallen trees and collapsed structures, increases every year. Given this situation, reducing waste has become a major challenge.

As PICs are Japan's southern neighbors, it's crucial to learn from and cooperate with each other
The project is now working in parallel to prepare guidelines for disaster waste management for the entire Pacific region, as well as for initiatives tailored to the challenges of each country. However, "There are a mountain of issues to be solved," says Mr. Mimura.

"First of all, financial resources must be secured. In PICs, waste-related issues are not a priority, and budgets are insufficient. For this reason, we are studying the introduction of deposit systems to encourage the collection of containers and charging schemes for waste disposal itself. Furthermore, manpower must be retained. While human resource development has produced results, the outflow of people to neighboring countries for new jobs is a source of concern. Tenacity is needed to foster human resources."

Also, it has become difficult to return products that have been part of our "waste reduction efforts." The reason for this is due to import restrictions and revisions to related treaties in destination countries. "In the future, we would like to explore recycling on the island," continues Mr. Mimura.

Seumalo Afele Faiilagi, assistant chief executive officer, Division of Environment Conservation of the Ministry of Natural Resources and Environment, says, "To improve recycling collection, the use of GIS (Geographic Information System) has enabled effective monitoring even in Samoa where the government has few staff. In addition, JICA is constantly supporting us in addressing new issues and needs, such as the advancement of disaster waste management efforts to deal with frequent natural disasters affected by climate change. As we are faced with new matters such as microplastics, we continue to place our expectations on JICA as a reliable partner."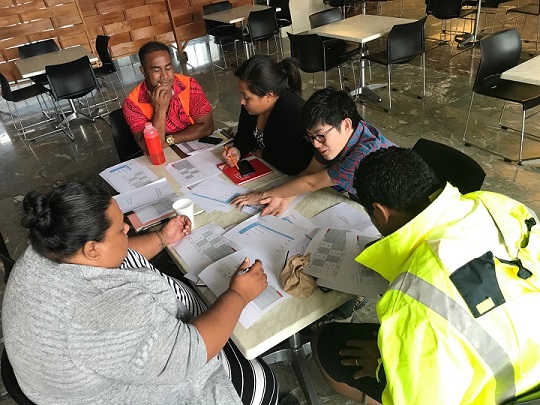 A JICA expert (second from right) training Samoa's Ministry of Natural Resources and Environment staff on collection monitoring methods
The Ninth Pacific Islands Leaders Meeting (PALM 9), where leaders of Japan and other countries discuss various issues facing PICs, will be held by video conference on July 2. Mr. Mimura was a member of the expert panel in charge of preparation for the summit and spoke about Japan's future relationship with the PICs, saying, "For Japan, the PICs are our southern neighbors. We must remember that our lives affect each other, and we must learn from and cooperate with each other."

He also says the following about the future.


"Throughout more than two decades of this initiative, we have received the support of over 500 Japanese individuals, including experts, JICA volunteers, and others involved in the training program. I would like to pay tribute to the efforts of everyone who has worked with me so far, and I will continue to work hand in hand with the people of the PICs."

Now based in Samoa, Mr. Mimura's initiative is approaching a critical point in time.