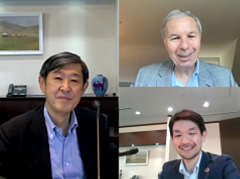 President Kitaoka (left), Professor Guéhenno (upper right) and Mr. Murotani, JICA Senior Director, Peacebuilding Office (lower right)
On July 15, JICA President KITAOKA Shinichi had an online meeting with Jean-Marie Guéhenno, Professor of the School of International Public Affairs (SIPA), Columbia University, and discussed JICA's strategy and activities on peacebuilding, the role of UN peacekeeping operations in today's global context, and international cooperation in the era of COVID-19 and beyond. Professor Guéhenno has been a member of the International Advisory Board (IAB) (Note 1) for JICA since the Board's establishment in 2017.

At the beginning of the meeting, President Kitaoka raised several topics for discussion as follows:

- how JICA should contribute to the recovery from the global COVID-19 crisis;

- how JICA can work with countries in democratic decline;

- what the direction of the international solidarity and international cooperation would be; and

- how drastically the characteristics of war may be changing, especially with the rise of hybrid warfare and cyberattacks.

Professor Guéhenno commented that there is no dominant country which leads the international community in sharing norms that could form the basis of international cooperation and multilateralism, as each country continues to have an inward-looking tendency. He also pointed out that conflicts in various places are protracted because they are multi-layered and/or criminalized. He said that it would be difficult for development agencies alone to resolve these protracted conflicts; therefore diplomatic efforts and international cooperation to prevent international crime would be important. In addition, he shared his analysis and views on changes in the role of UN peacekeeping operations, and current situations in the Sahel region of Africa, Myanmar, Palestine, Afghanistan, and others.

In addition, JICA introduced its recently developed "Global Agenda on Peacebuilding" (Note 2) and its efforts in some regions and countries. Based on this, Professor Guéhenno and other participants discussed the possibilities of JICA's engagement with non-state actors and cooperation with regional organizations in the Sahel region, the perception by local residents of extremist groups and foreign troops, and an analysis of the conflict in Tigray, Ethiopia.

Finally, President Kitaoka stated that he would like to continue such open exchanges of opinions, and Professor Guéhenno agreed and hoped for an opportunity to have discussion together with all IAB members in the near future.


(Note 1) The International Advisory Board (IAB) was established in March 2017 with the objective of strategically improving JICA activities and initiatives through advice from domestic and international board members who are distinguished experts in their field.


(Note 2) The Global Agenda is formed as JICA's strategies, developed along thematic lines, aiming to realize medium to long-term results and collective impacts beyond JICA's individual projects, to enhance human resources development and knowledge sharing based on Japan's experiences, and to build platforms where domestic and international stakeholders can engage with each other.