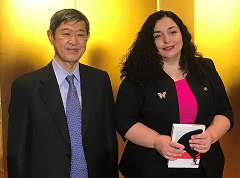 On July 26, JICA President KITAOKA Shinichi held talks with H.E. Dr. Vjosa Osmani-Sadriu, president of the Republic of Kosovo, in Tokyo.

At the outset, President Kitaoka expressed his sincere congratulations for the first gold medal gained by a Kosovo Judo athlete (women's 48-kg class) at the Tokyo Olympics 2020. President Osmani thanked JICA for its ongoing cooperation in the Republic of Kosovo, and expressed her desire to continue to strengthen the relationship as a trustworthy partner.

After that, the two exchanged opinions on cooperation in the field of the environment, particularly in air pollution, waste management, and disaster management (floods and forest fires) and tourism development. In addition, the two exchanged ideas for future cooperation in human resource development such as scholarship program.

JICA continues contributing to stabilizing social and economic infrastructure for sustainable state building in the Republic of Kosovo.