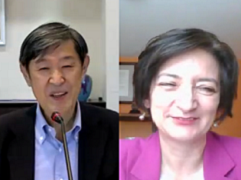 President Kitaoka (left) and Dr. Solís (right)
On August 31, JICA President KITAOKA Shinichi had an online meeting with Dr. Mireya Solís, Director of the Center for East Asia Policy Studies, the Brookings Institution. Dr. Solís was newly appointed as a member of the International Advisory Board (IAB) (Note) for JICA in May 2021.

At the beginning of the session, President Kitaoka queried how the withdrawal of U.S. troops from Afghanistan had impacted the Biden administration and the future of U.S. foreign and development policy. Dr. Solís said that the withdrawal of U.S. troops from Afghanistan will be a defining moment for President Biden. She also pointed out that the Biden administration has a very full domestic agenda focusing on vaccinations, infrastructure development in the U.S., social welfare, and climate change; measures in which it hopes to make progress ahead of the midterm elections next year. In addition, she shared her perspectives that Biden's diplomatic strategy would prioritize Asia due to competition with China and that he would cooperate with the QUAD: U.S., Japan, Australia, India, and other like-minded countries in the areas of vaccines, climate change, and technology.

Dr. Solís and other participants discussed the uncertainty for a U.S. policy of economic engagement with Southeast Asia under the Biden administration given the very limited push for trade negotiations. In addition, she discussed the importance of cooperation between the U.S. and Japan in infrastructure development and supply chain construction in developing countries. She also said that JICA's new initiatives, such as the acceptance of migrant workers and realization of inclusive society and "JICA Chair" are valuable investments in human capital, and therefore she expressed her expectations for the increase of Japan's ODA budget.

Finally, President Kitaoka stated that he would like to continue such open exchange of opinions, and Dr. Solís agreed and hoped for an opportunity to have a discussion together with all IAB members in the near future.


(Note) The International Advisory Board (IAB) was established in March 2017 with the objective of strategically improving JICA activities and initiatives through advice from domestic and international board members who are distinguished experts in their field.