The United Nations has designated Oct. 4 to 10 as World Space Week to promote the development of space technology.

You may feel that space and JICA, an agency to promote international cooperation for developing regions, are somewhat unrelated. In fact, space technology is currently being utilized in a number of our cooperation projects. For example, in partnership with the Japan Aerospace Exploration Agency (JAXA), we are making use of satellite data to develop and operate systems to monitor the changes in forests through activities such as illegal logging in the South American country of Brazil. Information from satellites is also invaluable for countermeasures against disasters such as flooding or volcanic eruptions in the ASEAN (Association of Southeast Asian Nations) region.


(left) CG image of JAXA's Advanced Land Observing Satellite-2 "DAICHI-2" (ALOS-2) (Image courtesy of JAXA)
(right) Survey on illegal logging in Brazil, which was spotted from monitoring satellite data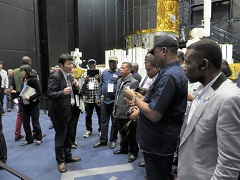 Space technology related researchers from developing countries touring Tsukuba Space Center of JAXA
In an effort to solve various issues in developing countries, the utilization of space technology is expected to increase. This includes the use of data from earth observation satellites that continually monitor Earth from space, day and night, regardless of weather conditions. Therefore, the development of human resources in space technology utilization for SDGs, has become an urgent issue in various countries. Under these circumstances, JICA has launched an initiative to support space human resources development, focusing primarily on Southeast Asia.
Conveying Japanese knowledge to space technology researchers in developing countries
The JJ-NeST (JICA-JAXA Network for Utilization of Space Technology), a space technology utilization network initiative, was launched in 2019 with the ambition of developing human resources in space technology utilization.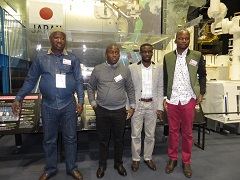 JAXA and JICA, in collaboration, support the learning of researchers and engineers in the field of space technology development and utilization
More specifically, JICA and JAXA have collaborated to support the learning of officials, engineers, and researchers mainly in Southeast Asia who will be responsible for space technology development and utilization in their own countries in the future. Training covers diverse topics such as satellite development, use of earth observation data, and space utilization-related policies. It provides opportunities for participants to learn about the latest space-related technologies and policies from Japanese professors, JAXA researchers, engineers in private companies, policymakers, and others.
In addition, to deepen the participants' understanding of space-related technology through research, the initiative will provide opportunities for study at University of Tokyo, National Graduate Institute for Policy Studies, Keio University, Kyushu Institute of Technology, and other graduate schools of leading universities. Moreover, through the Asia-Pacific Regional Space Agency Forum (APRSAF) and other exchange opportunities, it will promote the development and expansion of a human resources network that includes stakeholders from Japan and the countries involved in the training and study program.

Director ONO Atsushi of JAXA's Bangkok Office, who is engaged in the implementation of JJ-NeST, says, "Through this initiative, which was made possible thanks to the collaboration with JICA, the participants are learning about satellite development technologies, satellite data utilization technologies, and space policies in Japan. We hope that participants' learning will lead to the further promotion and establishment of space utilization in their countries, which will contribute to solving regional social issues. I also hope that in the future, this will lead to collaboration in research and development in the field of space for the mutual benefit of Japan and the participating countries."

Nurturing human resources in space technology utilization to link Japan and the world
"Japan's application of space technology is very practical and is consistent with what the Philippines is aiming to achieve. The Philippines' geography is quite like Japan. Both countries frequently experience typhoons, earthquakes, and volcanic eruptions. In terms of disaster risk management, I believe that the knowledge of Japanese space technology can also be applied in the Philippines."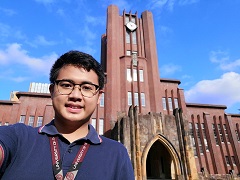 Mr. Ambatali, who researches satellite utilization at the University of Tokyo
Explaining this is Charleston Ambatali, who came to Japan in June this year under the JJ-NeST study-in-Japan program. He is currently studying at the University of Tokyo, researching the utilization of satellites for disaster risk management and the smartification of industry. Regarding his future aspirations, he says, "When I return to the Philippines, I would like to spearhead satellite projects and be involved in policies related to space technology utilization. Then, in the future, I would like to collaborate with other countries in Southeast Asia and contribute to the establishment of a network for space development."
Also, Nguyen Dinh Chau Minh, who came to Japan from Vietnam this August under the JJ-NeST study-in-Japan program to study satellite development project management at Keio University, says with passion, "I will use the knowledge and skills I have acquired to manage various satellite development projects in Vietnam. I will also try to promote every opportunity of cooperation in space industry between Vietnam and Japan."
Enhancement of collaboration among space agencies, universities, and private companies from various countries
When we look across the globe, we see that NASA has successfully collaborated with SpaceX, a private company, to develop ultra-large rockets and manned spacecraft. For the advancement of space technology, collaboration is indispensable not only with government-related space agencies but also with private companies, universities, and organizations that utilize space-related technologies. For this reason, JJ-NeST has plans to conduct international conferences and symposia in collaboration with a wide variety of partners, including developing countries. It aims to build and expand a sustainable human and organizational network of stakeholders from space agencies, ministries of various fields, universities, and private sector companies.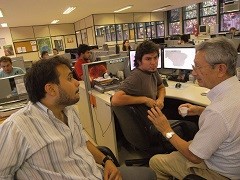 Japanese expert giving instructions on a forest monitoring system that utilizes satellite data (right)
A JICA staff member of the Office for STI&DX of the Governance and Peacebuilding Department says, "To solve global social issues such as SDGs, it is important to nurture and promote collaborative activities among space agencies and actors concerning satellite and rocket development, as well as among human resources who are involved in developing and promoting satellite data utilization systems. "With respect to JICA's goal of cooperation in the area of space," he added with enthusiasm, "Space-related technology is a useful tool for JICA in solving issues on the ground. In order to achieve the SDGs and solve many other issues, we believe that it is crucial to develop initiatives by human resources with various backgrounds from natural environment conservation, disaster risk management to urban and rural development. We are going to promote the development of human resources and the enhancement of human networks through JJ-NeST to facilitate the utilization of space-related technologies."