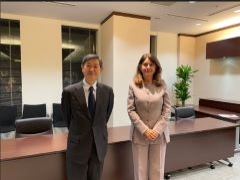 President Kitaoka (left) and H.E. Mrs. Ramirez
On November 8, JICA President KITAOKA Shinichi held talks with H.E. Mrs. Marta Lucía Ramirez Blanco, Vice President and Minister of Foreign Affairs of the Republic of Colombia, at JICA Headquarters.

H.E. Mrs. Ramirez spoke about Colombia's accomplishments such as the promotion of peace and democracy, economic recovery and job creation following the COVID-19 pandemic, support to Venezuelan migrants, and encouragement of women's advancement. She also underlined the role and significance of JICA's assistance to Colombia's social and economic development.

President Kitaoka responded by saying that Colombia and Japan are essential partners who share values of democracy, peace, and free trade. He also stressed that there is a great deal Japan can learn from Colombia such as social inclusion of immigrants and women's participation in politics. Furthermore, he commented on the importance of further knowledge exchange between the two countries, and expressed his hope to promote JICA Chair (JICA Program for Japanese Studies), to share Japan's modernization and postwar reconstruction experiences, in Colombia.

JICA will continue contributing to Colombian peace promotion, social and economic development, and disaster preparedness.