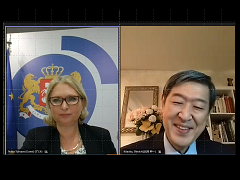 Minister Turnava (left) and President Kitaoka
On November 12, JICA President KITAOKA Shinichi had an online meeting with H.E. Ms. Natela Turnava, minister of economy and sustainable development of Georgia, as part of the Japan's Foreign Ministry's virtual invitation program for ministers.

The two parties touched on the Japan-Georgia Investment Agreement, effective from this year, under which both countries promote investment and economic exchanges, and they shared views about past cooperative achievements and prospects for the future.

Looking back his visit to Georgia, President Kitaoka spoke of how impressed he was with the scenery and culture he saw there, and also of his respect for Georgia's striving for independence and prosperity. He expressed his hopes for Japan's increased investment in Georgia and for progress with two-way dialogue between the countries aimed at deepening their cooperation. In addition, he pointed out that Japan's experience with modernization, including some failures, was very useful as seen from the development perspective. He expressed his hopes that the leaders and administrative officials from developing countries would study Japan's modernization experience through the JICA Development Studies Program and JICA Chair. Also, he touched on JICA's vision of leading the world with trust, and of JICA's wish to strengthen the ties between the two countries further by increasing trust and economic relationships through links between individual people.

Minister Turnava expressed thanks for Japan's cooperation, and said she was looking forward to Japan's positive investment and cooperation in the field of tourism.

JICA will continue to contribute to Georgia's economic and social development through further work on infrastructure, and other varied types of cooperation centered around human resource development.