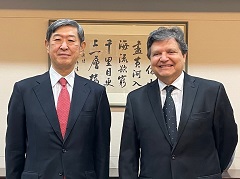 President Kitaoka (left) and Minister Acevedo
JICA President KITAOKA Shinichi held talks with His Excellency Dr. Euclides Acevedo Candia, Minister for Foreign Affairs of the Republic of Paraguay, on November 22 at JICA headquarters.

First, President Kitaoka repeated his heartfelt gratitude for being granted the National Order of Merit in the Grade of Grand Cross from the Government of Paraguay during his visit to Paraguay in 2019. He referred to the strong relationship of trust between Paraguay and Japan formed through Japanese migration and economic cooperation, and he welcomed Minister Acevedo to Japan.

In response to this, Minister Acevedo expressed thanks for JICA's past cooperation with Paraguay. He also referred to JICA's work in developing comprehensive support including humanitarian aid such as assistance for persons with disabilities, as well as in economics and technology.

President Kitaoka introduced JICA's cooperation through JICA Chair (JICA Program for Japanese Studies) at the National University of Asuncion, where Japan's development experience with modernization has been shared. He also mentioned receiving long-term trainees (JICA scholarship participants) in the fields of science and technology, and the provision of COVID-19 grants for clinics run by Japanese descendants (Nikkei). Minister Acevedo replied that he looked forward to further expansion of cooperation between the two countries.

Following the talks, Minister Acevedo met with 10 former JOCV (Japan Overseas Cooperation Volunteers) members who had been active in Paraguay in the past.

JICA will continue contributing to Paraguay's sustainable development through social and economic development, including infrastructure improvement, human resource development and technical cooperation.