Although Mongolia, a country of never-ending grasslands, may have a rustic image where many people still live a herding lifestyle, in fact, the Internet environment in urban areas is rapidly improving and the mobile phone penetration rate has exceeded 100%. The Mongolian government is promoting itself as a digital nation, focusing on the digitization of public services through the use of mobile applications and supporting startups. Entrepreneurship is very much thriving in the field of IT.

JICA is supporting startup companies in Mongolia that aim to solve issues that arose during the COVID-19 pandemic by utilizing IT. In September, a pitch event was held where entrepreneurs vied with each other to present their ideas.


(Left): Investors and experts from various countries participated in the pitch event online
(Right): The Best Pitch Award went to a company that provides telemedicine services
Programs to foster startup companies
Mongolia is rapidly digitizing, but it has only been about 30 years since the country transitioned from a socialist system to a market economy in 1990. It has very few role models in the industry, and in reality, there is not enough investment from venture capitalists and individuals. Many startups are struggling with procuring capital.

In order to solve such issues, JICA collaborated with MobiCom Corporation LLC, a major telecommunications company in Mongolia and a subsidiary of KDDI Corporation, and the Mongolia-Japan Center for Human Resources Development, to initiate the "MonJa Startup Accelerator Program." This six-month program includes networking with overseas investors and funding for supporting business expansion, aiming to develop startup companies by providing lectures on business growth, advice from mentors, and networking opportunities.

Online medical services for a vast country! Telemedicine service provider wins the Best Pitch Award
At the final pitch event held in September, each of the four companies that participated in the program gave a speech on the latest status of their businesses, and investors and experts judged the presentations.

From among the companies, the winner of the Best Pitch Award in terms of the degree of contribution to the COVID-19 pandemic issue and future growth potential was ASAP Care LLC, which develops the "Clinica" telemedicine mobile app.

The company was established in June 2020 with six employees and currently has partnerships with 41 doctors and 19 medical institutions to offer telemedicine services through the app. In Mongolia, which has vast land area, providing medical care to rural areas is a social issue. Telemedicine is becoming an increasingly more essential service in light of the COVID-19 pandemic.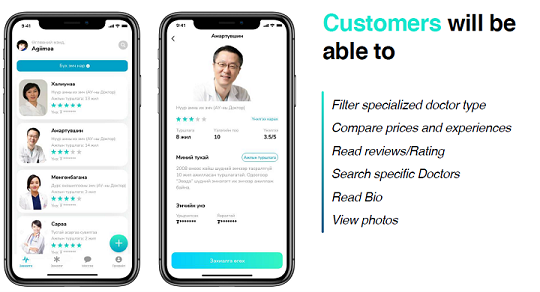 The online medical diagnosis app developed by ASAP Care
"I could see that ASAP Care was steadily making efforts to provide safe telemedicine. The inequality of medical opportunities is a problem not only in Mongolia but also in the United States. I have very high expectations for their expansion overseas in the future."

This was expressed by JIANG Aki of World Innovation Lab (US-based), which provides investment and business support to venture companies with a focus on Japan and the US.

Also, IKEDA Sho of Global Brain Corporation, which is involved in investment and management support for up-and-coming venture companies in Asia, said, "I felt that the four companies on the panel had great potential and I encourage them to develop a global growth strategy, not just within Mongolia. Since there are similar business examples in Japan, I would like them to collaborate with foreign investors and incorporate diverse points of view."

ASAP Care was awarded a trophy and an individual online meeting ticket with the World Innovation Lab and Global Brain, which will support its future growth.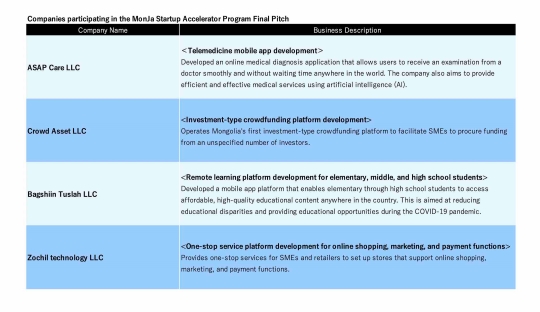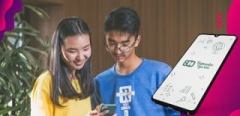 With Bagshiin Tuslah 's mobile app platform, elementary, middle and high school students throughout Mongolia have access to affordable, high-quality educational content from anywhere
Collaborating with various partners to support Mongolia's sustainable industrial development
In addition to MonJa, JICA is collaborating with the Communications and Information Technology Authority of Mongolia and the city of Ulaanbaatar on efforts to develop an ecosystem by strengthening the network of large corporations, research institutions, public agencies, and educational authorities. This is leading to the acceleration toward innovation originating in Mongolia.

JICA has also been engaged in the development of engineering talent in Mongolia, and in recent years has intensified its cooperation in the IT field with a view to promoting the digital nation set forth by the Mongolian government. We plan to conduct research to promote a safe digital economy and develop projects to foster cyber security specialists to build the foundation of a digital nation.

Mongolian students conducting electricity-related experiments in a project to develop engineering talent
JICA will also be holding business seminars to encourage Japanese IT companies to enter the Mongolian market and promote offshore development (outsourcing information systems and software development overseas). Business competitions that combine the core technological components of artificial intelligence (AI), which are deep learning and manufacturing (engineering), will also be held in cooperation with Japanese-style technical colleges in Mongolia.

In terms of future initiatives, KOIZUMI Taiga, who is in charge of startup support at JICA's Mongolia Office, explains the following.

"According to a survey, the Mongolian people are adept in mathematics, producing medalists in the International Mathematical Olympiad every year, and have a high IQ, so I feel there is potential for talent in the IT field. However, as the working population is small and the market size is not necessarily large, the IT industry needs to be strengthened to promote overseas expansion. On the other hand, many startups are struggling to raise capital and are unable to expand overseas, so it is my hope that JICA can contribute to the development of the IT industry by acting as a link between global markets and overseas investors. Going forward, in addition to supporting startups themselves, we would also like to work towards building an ecosystem involving multiple stakeholders."