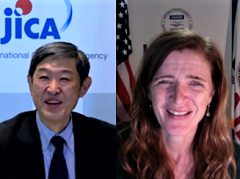 President Kitaoka (left) and Administrator Power
On January 14, JICA President KITAOKA Shinichi met virtually with USAID Administrator Samantha Power, who was confirmed in that position last May following her nomination by President Biden.

At the beginning of their discussion, President Kitaoka pointed out that a major crisis like the COVID-19 pandemic can have both serious economic and political impacts, making the work of development cooperation agencies in advancing economic and social progress all the more vital. President Kitaoka elaborated why he believes this is especially true now, underscoring his sense that democratic systems around the world seem to be wavering.

Administrator Power responded by noting the importance of supporting democracy-oriented countries financially while likewise fostering good examples of those promoting the rule of law and anti-corruption, a theme underscored by the "Summit for Democracy" that the United States hosted in December 2021. In addition, she stressed the importance of both eliminating forced labor in procurements for development cooperation projects and facilitating the diversification of supply chains.

President Kitaoka and Administrator Power then exchanged opinions and ideas on a wide range of issues concerning the international response to COVID-19. In particular, they affirmed that JICA and USAID will collaborate effectively at the field level in their respective efforts to supply vaccines and strengthen healthcare systems in developing countries, most notably in Africa. Administrator Power also expressed keen interest in JICA's hospital-focused work through the new JICA Initiative for Global Health and Medicine, as well as in the Eighth Tokyo International Conference on African Development (TICAD8) to be held later this year in Tunisia.

Finally, President Kitaoka and Administrator Power agreed to further explore opportunities for cooperation in the fields of energy, climate change, and disaster-resistant infrastructure across Asia and Africa.

Recognizing that pressing global development challenges like the ones raised by President Kitaoka and Administrator Power compel collective responses, JICA will continue to seek out opportunities for deepening engagement with USAID and other essential stakeholders for this purpose.