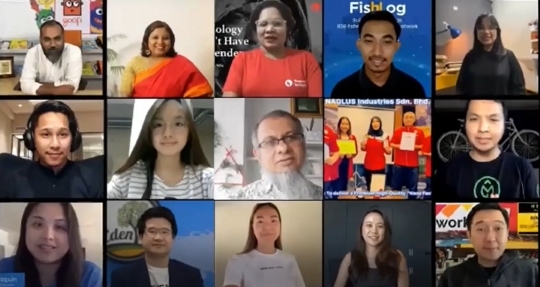 Representatives from 15 startups that participated in the JICA NINJA Accelerator 2021. Through this program, they gained an understanding of business, the perspective of investors, as well as a vision for domestic and international expansion
"The JICA NINJA Accelerator 2021" is a program that promotes the growth of startups that are now tackling social issues in developing countries through their businesses. This year, startups were invited from five countries in Southeast Asia and South Asia, and a nine-week accelerator program was conducted for the 15 most promising startups selected from a total number of 216 applicants. In addition to attending lectures systematically to acquire fundamental business knowledge, the startup leaders received advice from their mentors on refining their business plans and related training in preparation for the final pitch. Based on their learnings, the startup leaders are moving forward to achieve further growth in their businesses.
Launching a business with the hope to improve mental healthcare in Bangladesh based on personal experience
"If you think you have a unique business model, you should believe in it and persevere to make it happen. You have to seize business opportunities and be the pioneer in Bangladesh." This is what our mentor, Thomas told us, and it remains in my mind to this day. This program has breathed life into our business."

These are the words of Shiropa Tawhida, founder and CEO of Moner Bondhu, who participated in the JICA NINJA Accelerator 2021 from Bangladesh.

"Moner Bondhu is a Bangladeshi Startup specializing in mental healthcare. My motivation for starting the business was because my mother was suffering from depression. When her conditions deteriorated, our family became painfully aware that "all patients with mental issues need professional mental healthcare and an environment that protects their confidentiality." This is how I came to start my company to provide affordable counseling services by specialists for people with mental health issues and to eliminate the prejudice against people with mental health issues that persist in Bangladesh."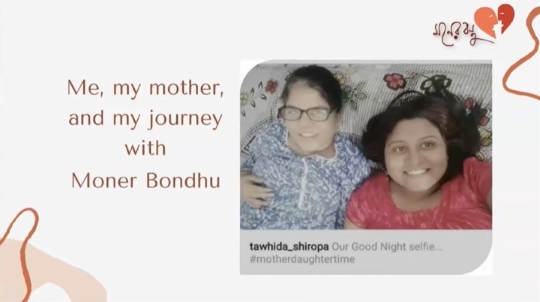 Ms. Tawhida (right) and her mother (left). The company's name, "Moner Bondhu," means "friend of your heart."
She explained, "A mental issue is considered a stigma (humiliation), and there are many people who are unable to consult with others about the problems they are facing. It is estimated that about 20 million people in Bangladesh suffer from mental issues, and there is an increasing number of cases where young people and women are being driven to suicide, especially as a result of COVID-19. Moner Bondhu currently has a total of 2 million users and plans to expand its services to an additional 1 million users over the next two years. While mental healthcare has become an urgent issue, our strength is in providing prompt professional care 24 hours a day, under strict confidentiality, at an affordable price." She then commented enthusiastically, "The JICA NINJA Accelerator Program was a great journey with JICA amongst Moner Bondhu team members, mentors, and specialists. We learned so many things and hope to bring more innovations in the field of mental healthcare to help more people."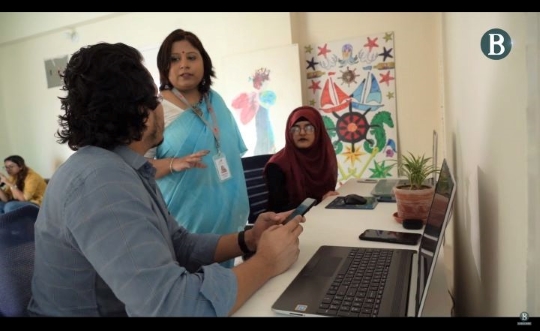 Moner Bondhu operates 24 hours a day, seven days a week. Staff members receive training in mental care and work with psychologists and psychotherapists to communicate with users (Ms. Tawhida is pictured in the center of the photo)
15 startups presented their business plans refined through the program at Emerging Tech Pitch Final in Asia
"The JICA NINJA Accelerator 2021" was conducted as part of "Project NINJA," which supports entrepreneurs and the creation of business innovation in developing countries. As a culmination of the event, "Emerging Tech Pitch Final in Asia" was held in January this year, where 15 participating startups pitched their business plans. Through the steady business management guidance by globally successful entrepreneurs and investors and mentors with international business experience supporting the startups, this event was the completion of efforts to foster the business mindset of the participating startups, develop their skills, and refine their business plans. With innovative business models that contribute to SDGs, 15 startups from various fields competed on "Emerging Tech Pitch Final in Asia" which manifests what they gained from the program and made business pitches to interested investors.
37 venture capital firms, corporate venture capital firms, and impact investors gathered for the business pitch, which also served as a forum for business matching.

MATSUMOTO Tatsuya from Global Brain, a venture capital firm that participated in the business pitch, commented on Moner Bondhu as follows. "In the COVID-19 pandemic, the importance of mental health and self-care has also become apparent in Japan. Mental health issues are no different in developed and developing countries. I was keenly interested in the unique solutions that they have developed."

During the pitch event, investors were allowed to choose startups of their interest and request a meeting on the spot. Moner Bondhu received requests from several Japanese companies to meet with them and business-related communications have already started. Investors said, "Participants come from various countries and a wide array of business fields, and the information needed to make investment decisions was comprehensive. We immediately set up meetings with some of them." This pitch event was meaningful for both the 15 startups participating in the program and the investors.

On the day of the event, investors cast their votes on each business model and its performance, and the results were announced. The winner of the "Best Performing Startups Award" was Packworks from the Philippines. Packworks provides a mobile application to 135,000 micro-stores, which is equivalent to 12% of all stores in the Philippines. By shifting the consumer goods distribution process from a manual process to online ordering, they aim to gather information on marketing data and increase efficiency on store management. The company plans to expand the number of stores to 220,000 by the end of the year using its mobile application.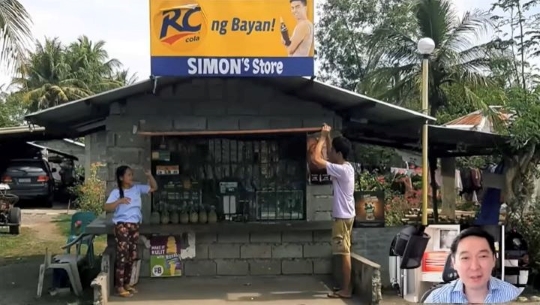 Scene from the presentation by the management of Packworks, the winner of the "Best Performing Startups Award." Micro-stores, called sari-sari stores, are found along street corners of villages and towns in the Philippines. Stores are often run by women and serve as a place for residents to buy consumer goods and socialize within the community
Solutions created in the developing countries can be connected to solving problems in Japan
Looking back to the JICA NINJA Accelerator 2021, HARA Shohei, director general of Private Sector Partnership and Finance Department in JICA, explains the significance of the project.

"Issues that arise in developing countries also exist in Japan. For example, ClicknCare from Malaysia, which won the JICA SDG Award, offers a service that allows migrant workers to receive medical care in their native language. I believe that this service could be useful for foreigners living in Japan as well. Moner Bondhu's business is an initiative that sheds light on the ongoing social issues in Bangladesh society as it undergoes a major transformation due to rapid economic growth, and of course, Japan is facing similar challenges. Through Project NINJA, JICA is hoping to play a catalytic role among startups in developing countries and Japanese companies and investors to facilitate positive responses, amongst others. We also want to continue to transform ourselves. As we learn new ways to solve issues, we want to be open, expeditious, and engage with various stakeholders, especially the private sector and startups."

The startups that took part in the program have begun to take the next step. JICA will continue to provide support to the participating startups and encourage them to scale up their businesses.