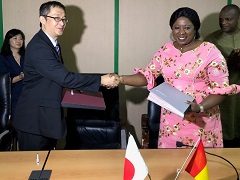 signing ceremony
On July 3, the Japan International Cooperation Agency (JICA) signed a grant agreement with the Government of the Socialist Republic of Guinea in Conakry, to provide grant aid of up to 1.414 billion yen forthe Project for Reconstruction of Soumba bridge on the National Route No.3.

Under this project, Soumba bridge on National Route 3, which has a risk of collapse due to aging and which also experiences heavy congestion and has become a bottleneck affecting the distribution of goods because there is only one lane, will be reconstructed with the aim of improving traffic and the flow of goods. It is expected that this project will promote the distribution of goods and revitalize economic activities along National Route 3.

For the detailed design of the project, JICA signed a grant agreement to provide grant aid of up to 57 million yen on December 10, 2018.

Details of the project are provided below.
[Basic project information]
Country
Republic of Guinea
Project title
The Project for Reconstruction of Soumba bridge on the National Route No.3
Planned implementation period
53 months, including detailed design work and the bidding period
Executing agency
Ministry of Public Works
Target region, facilities
Khorira sub-prefecture, Dubreka Prefecture, Kindia Region
Specific project details (provisional)
(1) Facility improvements
Reconstruction of Soumba bridge (length 77m, PC bridge, two lanes), access road (763m), river bank strengthening (210m)
(2) Consulting services
Bidding assistance, construction supervision