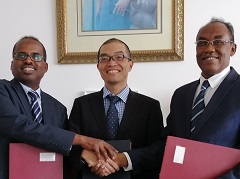 signing ceremony
On September 30, the Japan International Cooperation Agency (JICA) signed a grant agreement with the Government of the Republic of Djibouti in Djibouti, to provide grant aid of up to 4.081 billion yen for the Project for the Reinforcement of Maritime Transport Capacity at the Gulf of Tadjourah.
The objective of the project is to fortify maritime transport capacity between Djibouti and Tadjourah by providing a ferry and the construction of berthing facilities utilizing the advanced technology of Japan. This will contribute to the economic growth of Djibouti, particularly in the northern region, narrowing the development gap between north and south.
The ferryboat trasnportation which connects north and south of Djibouti relies on a ferryboat provided by Japan through a grant aid project in 2009. In the windy monsoon season, people are forced to travel by costly and time-consuming buses due to the ferryboat constantly being out of service. It is expected that this project will contribute to the standard of living and the sustanable development in the northern regin by providing another ferryboat. It will improve the congested ferryboat situation and increase in service frequency even during the monsoon season, and enhance capabilities of berthing facilities to accommodate the new ferryboat. This project will contribute to the achievement of SDGs Goal 9.
[Basic project information]
Country
The Republic of Djibouti
Project title
The Project for the Reinforcement of Maritime Transport Capacity at the Gulf of Tadjourah
Planned implementation period
38 months, including detailed design work and the bidding period
Executing agency
Directorate of Maritime Affair, Ministry of Equipment and Transport
Target region, facilities
Djibouti City, Tadjourah City, Gulf of Tadjourah
Specific project details (provisional)
① Facility improvements/equipment procurement
(a) construction of berthing facilities in Djibouti port and Tadjourah port
(b) procurement of one (1) ferry

② Consulting services
Detailed design work, bidding assistance, construction/procurement supervision