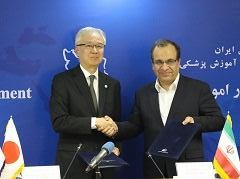 signing ceremony
On November 24, 2019, the Japan International Cooperation Agency (JICA) signed the Record of Discussions (R/D) in Teheran for the "Project for Improving Medical Services in the Islamic Republic of Iran through Japan's Medical Management Models."

The project aims to improve medical services for patients with non-communicable diseases (NCDs) and senior citizens through transferring knowledge of, and experiences in, advanced medical services and related health policies developed in Japan. This project will contribute to the achievement of SDGs Goals 3.

In Iran, health issues have shifted from maternal and child health and infectious diseases control to NCDs for the past 20 years. The under 5-year-old mortality rate improved from 44 per 1,000 live births in 2000 to 15.1 in 2016, and maternal mortality ratio, from 76 per 100,000 live births in 2000 to 25 in 2015 respectively. However, mortality caused by NCDs has been on the increase year by year. In 2010, 46% of the country's causes of death were cardiovascular diseases, followed by cancer (13%) and the other NCDs (11%). In addition, Iran's life expectancy at birth extended from 53.9 years for the period of 1970-75 to 76 years (Male: 75; Female: 77) in 2016. Therefore, medical services targeted at the aged population are more important than before.

This project plans to increase the capacity of Iran's health professionals through training programs in medical technology and management developed in Japan. It will be a new type of cooperation for JICA, integrating various fields such as hospital management, hospital design and construction, elder health, and NCDs, in one project. As part of the training programs, Iranian participants will develop policy proposals concerning NCDs control in Iran.

The project is expected to help advance patient-centered medical services throughout Iran in the future.
[Basic project information]

| | |
| --- | --- |
| Country | The Islamic Republic of Iran |
| Project title | Project for Improving Medical Services in the Islamic Republic of Iran through Japan's Medical Management Models |
| Planned implementation period | December 2019 – November 2022 |
| Executing agency | Ministry of Health and Medical Education |
| Target region | Iran |
| Specific project details (provisional) | Knowledge co-creation (training) programs in the field of hospital management, hospital design and construction, elder health, and NCDs control, including cancer; preparation of policy proposals in these fields; and knowledge dissemination workshops in Iran. |