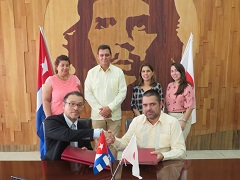 signing ceremony
On 28 November, the Japan International Cooperation Agency (JICA) signed a Record of Discussions with the Government of the Republic of Cuba in Havana for the Project on Electricity Sector Master Plan Study for Development of Renewable Energy, a technical cooperation for development planning.
The government of Cuba has set a policy target of increasing the renewable energy rate (the share of renewable power generated by renewable energy relative to the total electricity generated) from current 5% to 24% by 2030. The project will formulate a master plan for renewable energy development by 2030 and contribute to the enhancement of renewable energy utilization in Cuba

The detail of the project is as follows:
[Basic project information]
Country
Republic of Cuba
Project title
Project on Electricity Sector Master Plan Study for
Planned implementation period
24 months
Executing agency
Electric Union of Cuba (UNE)
Target region
Nationwide
Specific project details (provisional)
- Identify the renewable energy potential of Cuba.
- Propose renewable energy projects to be incorporated by 2030 and the necessary measures required to ensure operational stability of the NES with their integration.
- Develop an Energy Development Master Plan by 2030 which includes a list of priority projects.
- Assist UNE in improving technical capacity to update the Energy Development Master Plan as needed.