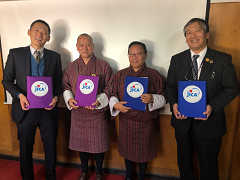 signing ceremony
On December 5, the Japan International Cooperation Agency (JICA) signed a Record of Discussions with the Government of the Kingdom of Bhutan in Thimphu for the Project for Promotion of Technology Education and Diffusion through Digital Fabrication Laboratory (Fab-Lab*), a technical cooperation project.

The project aims to develop new educational models that link technological capabilities to the needs of society and industries by establishing Fab-Lab at the College of Science and Technology and introducing digital fabrication technology and open innovation. The project will contribute to the achievement of SDGs Goal 9.

* Fab-Lab: A local lab and its global network that provides digital fabrication (computer-controlled digital machine tools) and enables individual inventions.

Details for the project are provided below.
[Basic project information]

| | |
| --- | --- |
| Country | Kingdom of Bhutan |
| Project title | Project for Promotion of Technology Education and Diffusion through Digital Fabrication Laboratory (Fab-Lab) |
| Planned implementation period | 36 months |
| Executing agency | College of Science and Technology, Royal University of Bhutan |
| Target region | Phuentsholing |
| Specific project details (provisional) | Developing new technical educational models that contribute to solving community issues and revitalizing industries by establishing Fab-Lab, promoting collaboration inside and outside college and providing platforms for citizens and schools. |