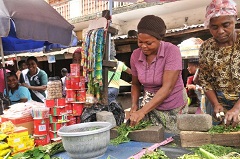 Women preparing vegetables for sale at market in Lagos, Nigeria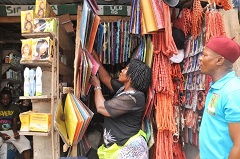 Woman running a clothing store in Lagos, Nigeria
On Feb. 14, the Japan International Cooperation Agency signed a Limited Partnership Agreement to provide financing for "Women's World Banking Capital Partners II," a fund that will finance institutions who deliver financial services to women in developing countries. The fund is directed by Women's World Banking (WWB), an NGO based in the United States that has promoted women's financial inclusion for over 40 years, and will plan to raise US $100 million from development finance institutions and other international investors, including a US $11.5 million investment by JICA. Organizations such as the European Investment Bank (EIB) have also committed to invest in the fund, but JICA is the only participant from Asia.

Of the 1.7 billion people in the world who do not have bank accounts, approximately 1 billion are women, and women's access to financial services is still limited in many developing countries. "Achieve gender equality and empower all women and girls" is one of the U.N. Sustainable Development Goals (SDGs), and improving women's financial access is crucial to accelerate sustainable development.
Improving women's access to financial services requires not only increasing the percentage of women who hold bank accounts with financial institutions, but providing financial services that fit the needs of women and also creating a social environment in which women are able to access such services.

This project aims both to improve women's access to financial services and to help women increase their income and sales of businesses they operate by investing in financial institutions through the fund as well as providing WWB's technical assistance to such institutions, thereby contributing to their financial empowerment. Approximately 40% of the funds are being allocated to financial institutions located in Sub-Saharan Africa. The main targets of investment are (1) micro-financing institutions that support small-scale business startups by women, (2) digital financing service institutions that use mobile financing arrangements to support operation and start-up of businesses and (3) housing financial institutions that provide credit services for home construction and refurbishment to lower income brackets. An important feature of this fund is that, in addition to investment, WWB will extend technical assistance to the invested financial institutions, thereby maximizing development impacts. Technical assistance includes helping with establishment of action plans aimed at reducing the gender gap; monitoring and analysis of indices such as the number of female employees and customers to develop strategies for a better approach to female customers; and supporting to design new financial products.

Participation in the fund is counted as one of the pioneering initiatives under the "2X Challenge: Financing for Women" (*1) that was announced at the G-7 Charlevoix Summit in June 2018.
The U.S. International Development Finance Corporation (USDFC) has also announced that it will participate in this fund, making it JICA's first cooperative project with the USDFC since JICA and the U.S. Overseas Private Investment Corporation (OPIC, one of the USDFC's predecessors), signed a memorandum of cooperation to promote co-financing to the private sector in developing countries.

In order to continue mobilizing funds to gender lens investment for gender equality, JICA works on support towards women's empowerment through collaboration with other development finance institutions and the private sector players.

*1:The "G-7 2X Challenge: Financing for Women" initiative aims to mobilize $3 billion by 2020 using funds provided by development finance institutions of the G7 countries to stimulate investments by the private sector, to foster the growth of female entrepreneurs and business leaders and to promote economic empowerment of women by encouraging their entry into the labor market. The letters "2X" represent the initiative's goal of doubling the quantity and effectiveness of investment in women.