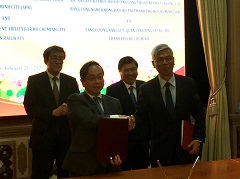 signing ceremony
On 21 February, the Japan International Cooperation Agency (JICA) signed a grant agreement with the Government of the Socialist Republic of Vietnam in Ho Chi Minh City to provide grant aid of up to 1,882 billion yen for the Project for Trenchless Sewerage Pipe Rehabilitation in Ho Chi Minh City.

This project will contribute to preventing road cave-ins and improving public health by rehabilitating aging drainage and sewer pipes in Ho Chi Minh City and will contribute to Sustainable Development Goals (SDGs) Goal 6.

Osaka city will provide technical support to the project, based on its existing cooperation with Ho Chi Minh City in the sewage sector. This will be the first Grant Aid project supported by a Japanese municipality.

Ho Chi Minh City's rapid urban growth requires urgent development of urban environmental infrastructure in order to meet the demand for a clean water supply to protect the water environment. While the city is making tremendous efforts to build the new sewerage system with JICA's existing support, rehabilitation of the old sewer pipes built in the French colonial times is a great challenge considering the existing heavy traffic jams.
[Basic project information]
Country
Socialist Republic of Vietnam
Project title
The Project for Trenchless Sewerage Pipe Rehabilitation in Ho Chi Minh City
Planned implementation period
47 months, including detailed design work and the bidding period
Executing agency
Urban Infrastructure Construction Investment Projects Management Unit (UICI)
Target region, facilities
Ho Chi Minh City
Specific project details (provisional)
1.Civil works / equipment procurement
Rehabilitation of old drainage and sewer pipes utilizing trenchless technology
2.Consulting service
Detailed design work, bidding assistance, construction supervision, (as soft component) Capacity building for the survey inside sewer pipes, Capacity building for planning on operation and maintenance of existing sewer pipes, diffusion of trenchless technology.