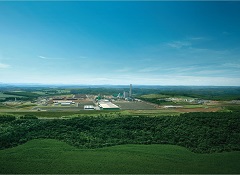 The Klabin S. A. factory receiving the investment
On March 31, JICA signed a $72-million loan agreement with Klabin S.A., a Brazilian pulp and paper manufacturing company. This project is the second JICA private finance transaction in Brazil and is the first co-financing with IDB Invest, a member of the IDB Group for the private sector (*1).

As a result of the world economic development there is an increasing demand for forest products including pulp and paper. To meet such demand, promotion of legal and planned forestry management without felling natural forests, and establishing the sustainable forest supply chains is an urgent issue. In this project, Klabin S.A. is carrying out an expansion of its existing factory in Paraná State in southern Brazil. By further promoting the use of biofuel it is expected to control the GHG emission. Klabin S.A., founded in 1899, has a strong commitment for forming a sustainable industry and protecting the environment. In the areas of reforestation business and the process of manufacturing pulp and paper it gained the first Forest Stewardship Council® (FSC) certification in the southern hemisphere (*2). The lumber it uses is derived from afforestation 100% compliant with FSC standards. In addition, the company voluntarily conserves over 40% of its wide forest holdings as natural forests (about 500,000 ha). It also provides support to its external suppliers of timber products for them to gain FSC certification and is carrying out training programs for regional forest industry personnel.

This project will contribute to the development of Brazil's sustainable forest industry and to strengthening the supply chains. It will also lessen the effect of climate change and contribute to SDGs (Sustainable Development Goals) Goals 9, 12, 13, 15 and 17.

In addition, this project will be co-financed with IDB Invest and the International Finance Corporation (IFC). There will also be financing from commercial banks such as Sumitomo Mitsui Banking Corporation and Sumitomo Mitsui Trust Bank. Going forward, JICA will actively promote partnerships with development finance institutions, private financial institutions and private enterprises for the socioeconomic development in developing countries and for the solution of global issues.


(*1)IDB Invest, a member of the IDB Group, is a multilateral development bank committed to promoting the economic development of its member countries in Latin America and the Caribbean through the private sector. IDB Invest finances sustainable companies and projects to achieve financial results and maximize economic, social and environmental development in the region. With a portfolio of $12.1 billion in asset management and 333 clients in 24 countries, IDB Invest provides innovative financial solutions and advisory services that meet the needs of its clients in a variety of industries.
In March 2018, JICA and IDB Invest signed a Memorandum of Cooperation to promote co-financing to private sectors in the region.

(*2) The Forest Stewardship Council® (FSC) is an international, independent, non-profit organization established in 1994 with the object of promoting responsible forest management throughout the world. FSC gives certification to the economical and sustainable production of lumber done with care for preserving forest environments, and consistent with the profit of regional societies, centering on forests producing lumber and the distribution and processing of lumber cut from the forests.