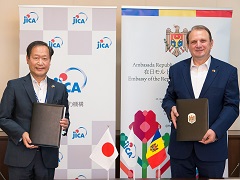 signing ceremony
On June 30, the Japan International Cooperation Agency (JICA) signed a loan agreement with the Government of the Republic of Moldova to provide a Japanese ODA loan of up to 2.059 billion yen for the Project for Modernization of Agricultural Machineries and Equipment.

The Project supports small and medium agricultural enterprises to purchase modern agricultural machineries and equipment throughout the Republic of Moldova. By doing so, the Project is to improve agricultural productivity, thereby contributing to the development of agriculture sector in the country. This project will contribute to the achievement of SDGs Goals 2 and 8.

Special Terms for Economic Partnership (STEP)* will apply to the Japanese ODA loan for this project, and Japanese technology, including agricultural machineries and equipment will be utilized in the project.

* STEP refers to special assistance terms for promoting the visibility of Japanese aid through a transfer of outstanding Japanese technology and expertise to developing nations. The main contract is Japan tied and subcontracting is general untied. The main agreement partner must generally be a Japanese company, an overseas subsidiary of a Japanese company, or a joint venture between a Japanese company and the borrowing country where the Japanese company is the lead partner, although under certain conditions a joint venture between a Japanese company (which is the lead partner of the joint venture) and an affiliated company (as accounted under the equity method) of a Japanese company may be the main agreement partner.

Details for the project are provided below.
Project title
Amount
(million yen)
Annual interest rate (%)
Repayment
period
(years)
Grace
period
(years)
Procurement
Project
Consulting services
Project for Modernization of Agricultural Machineries and Equipment
2,059
0.1
0.01
40
12
tied
2. Executing Agency
Ministry of Agriculture, Regional Development and Environment of the Republic of Moldova
Address: 9 Constantin Tanase Str., MD-2005, Chisinau, Republic of Moldova
Phone: +373 (22) 27-9627、FAX:+373 (22) 54-99-84

3. Planned Implementation Schedule
(1) Completion of project: June 2026 – when lease payments (the handover) of machineries and equipment are completed
(2) Issuing of letters of invitation for consulting services (including overall project management): February 2020 (Already sent)
(3) Start of tender of initial procurement package on project construction: There will be no International Competitive Bidding for construction.

4. JICA Contact Information
For further information about the procurement schedule, please contact the party listed below.
Contact Point for Europe Division, Middle East and Europe Department, JICA HQs,
Address: 5-25, Niban-cho, Chiyoda-ku, Tokyo 102-8012, JAPAN
Phone: +81-3-5226-6846、FAX:+81-3-5226-6365