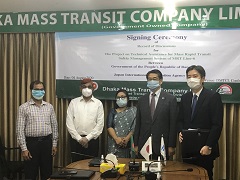 signing ceremony
On August 4, the Japan International Cooperation Agency (JICA) signed a Record of Discussions with the Government of the People's Republic of Bangladesh in Dhaka for the Project on Technical Assistance for Mass Rapid Transit Safety Management System of Line 6, a technical cooperation project.

The project supports establishing a transport safety management system in Dhaka Mass Transit Company Limited (DMTCL). In Dhaka, Mass Rapid Transit (MRT) Line 6, the first urban railway in Bangladesh, is now under construction with support of Japanese ODA loans, and DMTCL will operate and maintain MRT Line 6 and the other coming new MRT lines. In Japan, to enhance railway safety, a transport safety management system is established and implemented by railway operators. This project will focus on capacity development of DMTCL for safety management, focusing especially on what DMTCL itself should consider and implement in order to achieve a safe and reliable urban railway. Through this approach, the project aims to induce a transport modal shift from private to public in the Dhaka area and it will contribute to the achievement of SDGs Goal 11.

Details for the project are provided below.
[Basic project information]

| | |
| --- | --- |
| Country | The People's Republic of Bangladesh |
| Project title | The Project on Technical Assistance for Mass Rapid Transit Safety Management System of Line 6 |
| Planned implementation period | 30 months |
| Executing agency | Dhaka Mass Transit Company Limited |
| Target region | Dhaka city and adjacent districts, Bangladesh |
| Specific project details (provisional) | Dispatching an expert team and conducting training for DMTCL in order to support it preparing safety related manuals and rules and establishing a safety management system. |