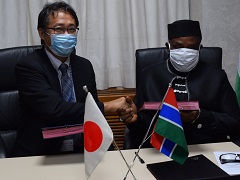 signing ceremony
On the 27th of July, the Japan International Cooperation Agency (JICA) signed a grant agreement with the Government of the Republic of The Gambia to provide grant aid of up to 1.591 billion yen for the Project for Rural Water Supply (Phase IV).

Under this project, solar-powered water supply systems will be constructed with the aim of improvement of public health and the living standard of the rural population. It is expected that this project will reduce the risk of water-borne diseases in rural areas of The Gambia. This project will contribute to the achievement of SDGs Goals 2, 3 and 6.

Details for the project are provided below.
[Basic project information]
Country
The Republic of The Gambia
Project title
The Project for Rural Water Supply (Phase IV)
Planned implementation period
43 months, including detailed design work and the bidding period
Executing agency
Ministry of Fisheries, Water Resources and National Assembly Matters
Target region, facilities
20 rural sites within The Gambia
Specific project details (provisional)
① Facility construction/equipment procurement
Construction of solar-powered water supply systems, procurement and installation of equipment
② Consulting services
Detailed design work, bidding assistance and construction/procurement supervision