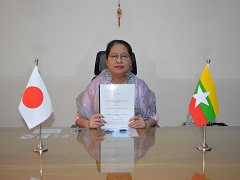 signer (Director General Daw Si Si Pyone, Ministry of Planning, Finance and Industry, Myanmar)
On Sept. 1, the Japan International Cooperation Agency (JICA) signed a loan agreement with the Government of the Republic of the Union of Myanmar in Nay Pyi Taw to provide a Japanese ODA loan of up to 30 billion yen for the COVID-19 Crisis Response Emergency Support Loan(Investment Promotion and Financial Sector Development Program Loan).

The objective of the program loan is to support recovery from economic downturn caused by COVID-19 through budget support for the implementation of the COVID-19 Economic Relief Plan and related policies for promoting investment, trade, and the financial sector. This program loan will contribute to the achievement of SDGs Goals 8 and 9.

Details for the program loan are provided below.


1. Terms and Amount of Loan
Project title
Amount
(million yen)
Annual interest rate (%)
Repayment
period
(years)
Grace
period
(years)
Procurement
Project
Consulting services
COVID-19 Crisis Response Emergency Support Loan(Investment Promotion and Financial Sector Development Program Loan)
30,000
0.01
-
40
10
General untied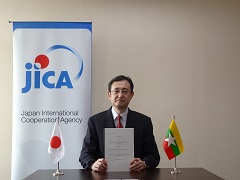 signer (Cheif Representative Sakakura, JICA Myanmar Office)
2. Executing Agency
Ministry of Planning, Finance and Industry
Address: Building No. 34, Nay Pyi Taw, MYANMAR

3. Planned Implementation Schedule
(1)Completion of program loan: October 2020 – when the loan is executed
(2)Issuing of letters of invitation for consulting services (including detailed design work):
No hiring of consultants is planned for this program loan.
(3)Tender announcement of initial procurement package for international competitive bidding on project construction:
No work in conjunction with bidding is planned for this program loan.