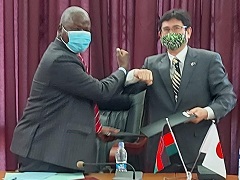 signing ceremony
On September 9, the Japan International Cooperation Agency (JICA) signed a grant agreement with the Government of the Republic of Malawi inLilongwe, to provide grant aid of up to 3.099 billion yen for the Project for the Improvement of Main Roads in Lilongwe.

Under this project, traffic congestion in Lilongwe, the capital city of Malawi, will be mitigated by repairing the M1 road and reconstructing a bridge. The M1 is the arterial road for Malawi and the region since it is a part of the Nacala Corridor connecting Malawi and Mozambique. It is expected that the project will stimulate socio-economic activities in Malawi and Southern Africa. This project will contribute to the achievement of SDGs Goals 3, 9 and 11.

For the detailed design of the project, JICA has already signed a grant agreement to provide grant aid of up to 80 million yen in October 2019.

Details for the project are provided below.
[Basic project information]
Country
Republic of Malawi
Project title
Project for the Improvement of Main Roads in the City of Lilongwe
Planned implementation period
53 months, including detailed design work and the bidding period
Executing agency
Ministry of Transport and Public Works
Target region, facilities
City of Lilongwe
Specific project details (provisional)
① Facility improvements/equipment procurement
Expanding the existing roads and bridges to four lanes
Replacing Lilongwe River Bridge
Road ancillary equipment
② Consulting services
Detailed design work, bidding assistance, construction/procurement supervision