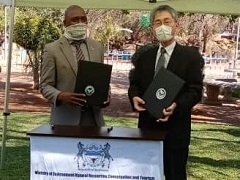 signing ceremony
On Sept. 9, the Japan International Cooperation Agency (JICA) signed a Record of Discussions with the Government of the Republic of Botswana for the Project for Capacity Development for the Conservation and Sustainable Use of Forest and Range Resources through the Process of Master Plan Development, a technical cooperation project.

The project aims to enhance the capacity of the Department of Forestry and Range Resources (DFRR) and the Ministry of Environment, Natural Resources Conservation and Tourism (MENT) in their sustainable management of forest and range resources by supporting the Forest and Range Resources Master Plan development. The project will contribute to the achievement of SDGs Goals 13 and 15.

Details for the project are provided below.
[Basic project information]

| | |
| --- | --- |
| Country | Republic of Botswana |
| Project title | Project for Capacity Development for the Conservation and Sustainable Use of Forest and Range Resources through the Process of Master Plan Development |
| Planned implementation period | 48months |
| Executing agency | Department of Forestry and Range Resources (DFRR), Ministry of Environment, Natural Resources Conservation, and Tourism (MENT) |
| Target region | Entire Botswana |
| Specific project details (provisional) | Supporting the process of the Forest and Range Resources Master Plan development, as well as conducting pilot activities (forest fire management, participatory ecotourism in the Forest Reserve, etc.) in the northern part of the country, for the enhancement of the capacity of MENT officials. |