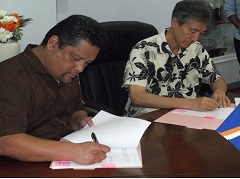 signing ceremony
On Sept. 17, the Japan International Cooperation Agency (JICA) signed a grant agreement with the Republic of the Marshall Islands inMajuro, to provide grant aid of up to 1,757 million yen forthe Project for Improvement of Water Reservoir at Majuro Atoll.

In this project, a new rainwater reservoir will be constructed at the water treatment plant in Majuro Atoll together with an adjoining aqueduct and embankment, increasing the water storage capacity. It is expected that this project will contribute to securing the water supply during droughts caused by climate change or other factors and meet increased demand in the future. This project will contribute to the achievement of SDGs Goals 6 and 13.


Details for the project are provided below.
[Basic project information]
Country
The Republic of the Marshall Islands
Project title
The Project for Improvement of Water Reservoir in Majuro Atoll
Planned implementation period
45 months, including detailed design work and the bidding period
Executing agency
Majuro Water Sewer Company (MWSC)
Target region, facilities
Majuro Atoll, Water Treatment Plant
Specific project details (provisional)
① Facility construction
Building a new reservoir, an adjoining aqueduct, embankment
② Consulting services
Detailed design, bidding assistance, construction supervision