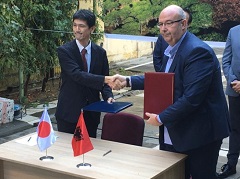 signing ceremony
On Oct. 8, the Japan International Cooperation Agency (JICA) signed a Record of Discussions with the Government of the Republic of Albania in Tirana for the Project for Capacity Building for Improving Ecosystem-Based Management on Divjake-Karavasta National Park, a technical cooperation project.

The project aims to enhance the capacity of park management at the National Agency of Protected Areas (NAPA) in the Ministry of Tourism and Environment (MoTE) by supporting development of a sustainable park management model through ecosystem-based management in the Divjake-Karavasta National Park aimed at conservation and sustainable use of Albania's domestic protected areas. The project will contribute to the achievement of SDGs Goal 15.

Details for the project are provided below.
[Basic project information]

| | |
| --- | --- |
| Country | Republic of Albania |
| Project title | Project for Capacity Building for Improving Ecosystem-Based Management on Divjake-Karavasta National Park |
| Planned implementation period | 36 months |
| Executing agency | Agency of Protected Areas (NAPA), the Ministry of Tourism and Environment (MoTE) |
| Target region | Divjake-Karavasta National Park |
| Specific project details (provisional) | Supporting the process of the ecosystem-based management model development for the enhancement of the capacity of NAPA officials in sustainable park management. |