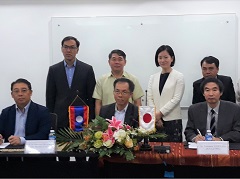 signing ceremony
On Oct. 30, the Japan International Cooperation Agency (JICA) signed a Record of Discussions with the Government of Lao People's Democratic Republic in Vientiane for the Project for Power Quality Improvement through Upgrading Grid Code* and Strengthening its Enforcement System, a technical cooperation project for Lao power quality improvement.

*Grid Code: The comprehensive rules and conditions that define overall planning and operation methods for the power transmission and distribution system which are necessary to enable cost effectiveness and a reliable power supply to customers.

The project aims to enhance the capacity of the Ministry of Energy and Mines (MEM) and Electricite du Laos (EDL) for power system planning and operation through upgrading the grid code and strengthening its enforcement system. The project will contribute to the achievement of SDGs Goal 7.

Moreover, Laos has a problem accommodating the rapidly increasing surplus of domestic power generation. It aims to develop the capacity of policy systems and organizational entities necessary to smoothly and sustainably export the electricity generated by the domestic hydropower to neighboring countries. The implementation of a "Power Sector Cooperation Program" as a strategic cooperation framework, including multiple technical cooperation projects, was discussed with executing agencies last month. This project will be implemented as the core project in this program.

Details for the project are provided below.
[Basic project information]

| | |
| --- | --- |
| Country | Lao People's Democratic Republic |
| Project title | Project for Power Quality Improvement through Upgrading Grid Code and Strengthening its Enforcement System |
| Planned implementation period | 36 months |
| Executing agency | Ministry of Energy and Mines (MEM) and Electricite du Laos (EDL) |
| Target region | All over Laos |
| Specific project details (provisional) | The capacity of MEM and EDL for power system planning and operation will be enhanced through upgrading the grid code and strengthening its enforcement system in order to achieve autonomous and stable operation of the power sector of Laos in a wide-area interconnection system. This project will also help MEM and EDL staffs with on the job training. |