The Japan International Cooperation Agency (JICA) signed a commitment agreement on Nov. 5 for the investment in "COVID-19 Emerging & Frontier Markets MSME Support Fund," a fund that will provide loans to microfinance institutions (MFIs) in developing countries. The fund will be managed by Blue Orchard Finance Ltd. (BOF), an impact investment fund manager that actively supports the financial inclusion of women in developing countries, and JICA will invest up to $35 million in the fund.

The impact of COVID-19 on micro, small and medium-sized enterprises (MSME) in developing countries has been significant, and financing is a challenge for many MSME with a weak business base. Women in developing countries, in particular, have traditionally had less access to financing and are more likely to have lower incomes than their male counterparts, making their businesses even more vulnerable under COVID-19. Under these circumstances, MFIs in developing countries are playing an increasingly significant role as a provider of funds to MSME.

This project aims to meet the urgent demand of MSME under the impact of COVID-19 by providing loans to MFIs in developing countries who will be providing financial services to MSME. The funds from JICA are planned to be used for financing for MFIs in the Asian region and will contribute to the "Initiative on Overseas Loan and Investment for ASEAN, " announced at the 22nd Japan-ASEAN Summit in November 2019, specifically to "Providing loan to the banking facilities centered on the ASEAN region aimed at empowering women, low-income people, medium and small-size businesses through improving financial access in the region."

Since 2016, JICA has pledged to contribute a total of $60 million to the BOF-managed "Japan ASEAN Women Empowerment Fund." Through this fund, JICA has been supporting MSME, mainly some 120,000 women-owned businesses in the Asian region (Note 1). The COVID-19 Emerging & Frontier Markets MSME Support Fund is also positioned as an initiative contributing to the "G7 2X Challenge: Finance for Women" initiative announced at the G7 Charlevoix Summit (Canada) in June 2018 (Note 2), which primarily targets the support of women businesses. In addition, U.S. and British development finance institutions (DFIs) such as the U.S. Development Finance Corporation (USDFC) and the U.K.'s Commonwealth Development Corporation (CDC) have announced their participation in the fund, and Japan, therefore, this initiative is a collaboration among the three countries to tackle with the COVID-19 pandemic.

KITAOKA Shinichi, JICA President, said: "One of our missions is to achieve Human Security. Its core is to ensure everyone the right to live in dignity. In pursuit of our mission, JICA is working to build more resilient societies that enable the protection of people's lives under the COVID-19 pandemic. As part of our efforts, JICA has joined the BlueOrchard COVID-Fund. In partnership with BlueOrchard, we have supported about 120,000 MSMEs mostly owned by women entrepreneurs in Asia through the Japan ASEAN Women Empowerment Fund since 2016. I believe that the financial opportunities offered by this fund to MSMEs in low- and middle-income countries will enable their fast recovery from the COVID-19 crisis and future growth."

【Scheme diagram of the fund】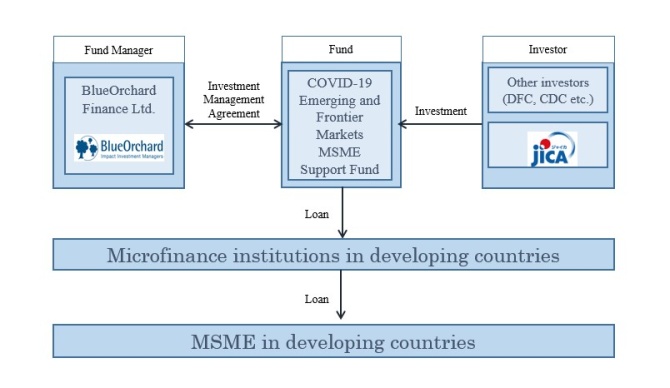 (Note 2)
The "G7 2X Challenge: Financing for Women" aims to mobilize $3 billion by 2020, by calling on DFIs in each of the G7 countries to provide their own funding and encourage private sector investment. It promotes women's economic empowerment, including the advancement of women entrepreneurs and business leaders and facilitating their entry into the labor market. The G7 2X Challenge aims to double the amount and effectiveness of investment in women.