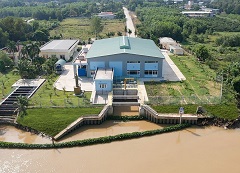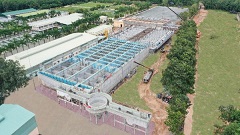 project site
Japan International Cooperation Agency (JICA) concluded a loan agreement on Nov. 17 to provide Binh Duong Water Environment Joint Stock Company (BIWASE) in the Socialist Republic of Vietnam with a maximum of $8 million. The project is part of the "Initiative on Overseas Loan and Investment for ASEAN" (announced in November 2019) and will be implemented through co-financing with the Asian Development Bank (ADB).

As Vietnam continues to achieve a high GDP growth rate, there is an urgent need to improve water supply systems to accommodate the increase in water demand due to rapid industrialization and urbanization. Binh Duong Province is a region with a high concentration of both domestic and international companies including Japanese ones in large industrial parks. It is also a commuter town for people commuting to Ho Chi Minh City. Water demand in the region has been increasing at an average annual rate of 17% over the past five years.

BIWASE, established before 1975 and has privatized in 2016, is a water and waste management utility that provides water services to 76% of the population of Binh Duong Province. Recently, JFE Engineering Corporation acquired 3.87% of BIWASE's share and cooperates in the area of water supply plant design, waste water management, and solid waste management.

Under the project, JICA loan are to upgrade Tan Hiep water treatment plant and increase the current water supply capacity of the existing plant by 80%. In addition, by supplying clean water, the project will help curb and prevent the spread of COVID-19 and contribute to the Sustainable Development Goals (SDGs) 6 and 17.

In Binh Duong Province, BIWASE has been developing sewerage projects through Japanese ODA Loans, such as the "Southern Binh Duong Province Water Environment Improvement Project" (loan agreement, 2007) and the "Southern Binh Duong Province Water Environment Improvement Project (Phase II)" (loan agreement, 2012), and has built a good relationship with JICA over the years. Building on the trust built with long-time partners like BIWASE, JICA will continue to support Vietnam's long term development in the future.