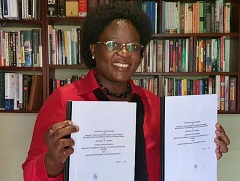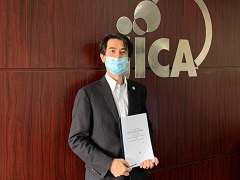 signing
On December 14, 2020, Japan International Cooperation Agency (JICA) signed a Record of Discussions with the Government of the Republic of Uganda for the Project for Integrated Urban Development Masterplan for Kampala Special Planning Area, a technical cooperation for development planning.

The project aims to realize appropriate urban development management in the Kampala Special Planning Area through updating an existing urban development master plan, formulating detailed plans and the guidelines, and establishing a collaboration and coordination mechanism among stakeholders to implement the master plan. The project will contribute to the achievement of SDGs Goal 11.

Kampala city, the capital of Uganda and the center of the Greater Kampala Metropolitan Area, has limited space for urban development due to its geographical characteristics as a hilly area. Its population increase and rapid urbanization have resulted in unplanned development and urban sprawl further constraining urban mobility, the urban environment, disaster prevention, and landscaping. Although an urban development master plan targeting year 2040 was approved by the Government of Uganda, unplanned development has continued in Kampala due to lack of detailed planning and adequate approval systems. In order to promote urban development effectively, it is necessary to update the urban development master plan to reflect the latest population forecast and the current situation in Kampala.

Details for the project are provided below.