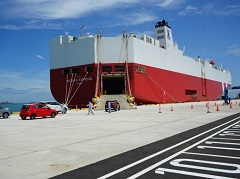 Loading finished cars for export onto an automobile carrier vessel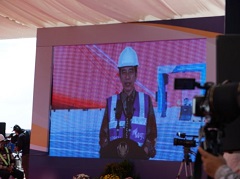 President Joko Widodo speaking at the ceremony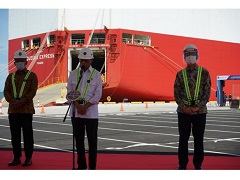 Transportation Minister Budi (center), Governor of West Java Ridwan (left), and Ambassador Ishii (right) addressing the ceremony
On Dec. 20, a ceremony was held in Subang Regency, West Java, the Republic of Indonesia, to mark the partial completion of the facilities and the start of operations at the Patimban Port (container terminal and car terminal), and the loading of vehicles onto an automobile carrier vessel was demonstrated. The port is being constructed under the "Patimban Port Development Project," a Japanese ODA Loan project.

The ceremony was attended by Indonesia's President Joko Widodo online, and by Transportation Minister Budi Karya and Governor of West Java Ridwan Kamil from the Indonesian side. From the Japanese side, Ambassador of Japan to Indonesia ISHII Masafumi and Chief Representative of JICA Indonesia Office OGAWA Shigenori attended. President Joko Widodo expressed his high expectations for the promotion of exports through transactions at the port.

In November 2017, JICA signed an ODA Loan Agreement (L/A) with the Government of Indonesia in the amount of 118.906 billion yen and has been cooperating in the building of Patimban Port. The construction of the Patimban Port is in response to the prospect that the existing Tanjung Priok Port alone will be unable to cope with the increasing volume of cargo handled due to Indonesia's rapid economic growth in recent years. Through the construction of a new Patimban Port, the project aims to strengthen the logistics infrastructure in the metropolitan area, which will, in turn, contribute to further economic growth in Indonesia by improving the investment environment.

Advanced Japanese companies' innovations, such as soft soil ground improvement technology and rapid construction technology, are being used in the process of developing Patimban Port. Thanks to the technological expertise of Japanese firms and their efforts together with those involved in the construction, a portion of the car terminal (about 8 ha) and the port access road (8.1 km) were completed in a short period. Their completion only took about three years after the ODA Loan Agreement was signed. Construction of the remaining open port area of Phase 1-1 (car terminal and container terminal) is scheduled to be completed around December 2021.

The governments of the two countries have confirmed that Japanese and Indonesian private companies will jointly operate the terminal. The selection process of the companies is underway.

JICA is now considering the possibility of further cooperation in the construction of automobile and container terminals and dredging of berths and shipping lanes of Patimban Port.