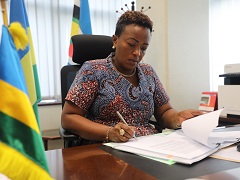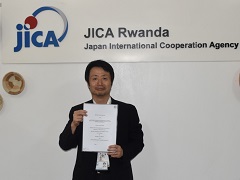 On Dec 31, 2020 the Japan International Cooperation Agency (JICA) signed a Record of Discussions with the Government of Republic of Rwanda in Kigali City Project for the Large Scale Mapping and Urban Mobility Improvement to Support Infrastructure and Services in Kigali, a technical cooperation project.

This project is to provide large scale digital topographic maps (large scale maps able to display buildings and roads on the map clearly) and orthophoto maps (maps with images of the correct size and position with no deviation or tilt, as seen from directly above, similar to a standard map). Capacity for this work will be strengthened, and by using a GIS (Geographic Information System) with the information from the maps, and by preparing a road register, urban development and city infrastructure will be advanced. This project will contribute to SDGs (Sustainable Development Goals) Goal 11 "Sustainable Cities and Communities."

Rwanda had a medium-scale digital topographic map made in 2013, but following this there was rapid economic development and population growth that needed to be reflected and new urbanization shown. A plan has been envisioned and formulated for Kigali City incorporating a city vision with a future smart city concept, an urban development masterplan, and a bus rapid transport system plan. Accurate, trustworthy maps are required for working at the development plan and solving urban issues. Also, large-scale digital maps are needed as denser residential settlement is planned, and also due to the hill-prone terrain with different elevations, the provision of geospatial information is important.

The details of this project are as follows.
[Basic project information]

| | |
| --- | --- |
| Country | Republic of Rwanda |
| Project title | Project for the Large Scale Mapping and Urban Mobility Improvement to Support Infrastructure and Services in Kigali |
| Planned implementation period | 36 months |
| Executing agency | Rwanda Land Management and Use Authority (RLMUA) and Rwanda Transport Development Authority (RTDA) |
| Target region | Kigali City and its surrounding area |
| Specific project details (provisional) | This project aims to produce large scale topographic maps (scale: 1/1,000, 1/2,500, and 1/10,000) and orthophoto maps covering the entire area of Kigali, offering technology transfer to maintain the maps to be produced. It will conduct a pilot project in the field of urban mobility improvement with direct relation to these maps resulting in adequate planning and management of infrastructure in Rwanda. |