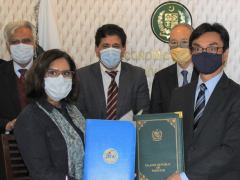 signing ceremony
On January 25, the Japan International Cooperation Agency (JICA) signed a grant agreement with the Government of the Islamic Republic of Pakistan in Islamabad, to provide grant aid of up to 1.986 billion yen for the Project for the Installation of Weather Surveillance Radar in Sukkur City.

JICA's grant aid has contributed to the development of weather surveillance radars across the country, in Islamabad, Karachi and Multan since 2014. This project will support the development of a new weather radar in Sukkur, Sindh province, and it will fill the area in south Pakistan that is not covered by a weather surveillance system from within Pakistan. With the completion of the project, 90 percent of the country will be covered by weather radars supported by JICA's grant aid.

This project is expected to mitigate damage caused by natural and hydro-meteorological disasters, while also contributing to the achievement of SDGs Goals 11 and 13.

Details for the project are provided below.
[Basic project information]
Country
The Government of the Islamic Republic of Pakistan
Project title
The Project for the Installation of Weather Surveillance Radar in Sukkur City
Planned implementation period
50 months, including detailed design work and the bidding period
Executing agency
Pakistan Meteorological Department
Target region, facilities
Sukkur city, Sindh province
Specific project details (provisional)
①Facility construction/equipment procurement
【Facility】Construction of 1 radar tower building
【Equipment procurement】Procurement and installation of weather surveillance radar
②Consulting services
Detailed design work, bidding assistance, construction/procurement supervision, technical guidance on maintenance of the weather radar