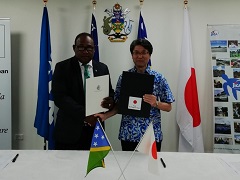 Signing ceremony
On Jan. 27, the Japan International Cooperation Agency (JICA) signed a grant agreement with the Government of Solomon Islands at its capital city, Honiara, to provide up to 3.159 billion yen as grant aid forthe Project for Upgrading of Kukum Highway (Phase 2).

Under this project, Kukum Highway, located in the capital Honiara will be upgraded with the aims of alleviating traffic congestion and strengthening drainage capacity, contributing to logistics improvement and coping with the vulnerability of social infrastructures in the Solomon Islands. It is expected that this project will strengthen the connectivity from the international airport to the capital and contribute not only to the development of strong and high-quality infrastructure, but also to traffic safety through sidewalk development. This project will contribute to the achievement of SDGs Goals 3, 9 and 11.


Details for the project are provided below.
[Basic project information]
Country
Solomon Islands
Project title
The Project for Upgrading of Kukum Highway (Phase 2)
Planned implementation period
41 months, including detailed design work and the bidding period
Executing agency
Ministry of Infrastructure Development
Target region, facilities
Honiara
Specific project details (provisional)
① Facility improvements/equipment procurement
Road improvement from Ministry of Fisheries and Marine Resources to Lunga Bridge (4 lanes, 4.3km) and from Lunga Bridge to Honiara International Airport (2 lanes, 2.0km), repair of Lunga Bridge, preparation of road drainage side ditch (about 7.0km), bus stop (19 places), road lighting, roundabout intersection (2 places), pedestrian crossing, and traffic warning sign, etc.
② Consulting services
Detailed design work, bidding assistance, construction/procurement supervision